Ramsey County part of statewide COVID-19 survey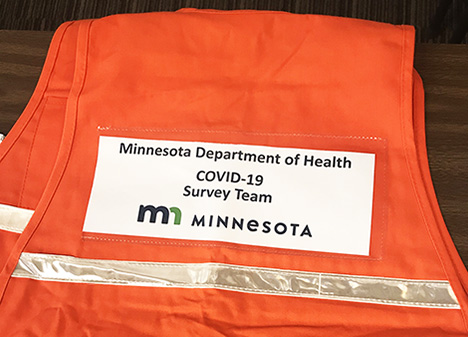 The Minnesota Department of Health (MDH) is conducting a voluntary statewide survey through Sept. 30 to better understand the spread of COVID-19 in Minnesota. Randomly selected Ramsey County households will be among the 180 sites in the state teams of public health professionals will be visiting for the in-person survey. The survey teams were scheduled to be in Saint Paul and Shoreview neighborhoods Sept. 14-16. 
If a household agrees to participate, one member will complete a questionnaire. All household members can then receive a free nasal swab to find out if they currently have COVID-19, and a free antibody test (a finger stick to draw a few drops of blood) to find out if you previously had COVID-19. Participants with positive results for either test will be contacted by a nurse to receive additional information. All questionnaire responses and results will be kept private.
The areas public health teams will visit throughout the state are census blocks, used by the U.S. Census Bureau, and were selected using a sampling method that takes into account population size. Households were randomly selected within each area. Only households approached by the Public Health teams are eligible to participate. Teams will be wearing facemasks, vests, and badges identifying them as members of the MDH COVID-19 Survey Team.
The goal of the survey is to better understand how COVID-19 is spreading in Minnesota and how it is affecting people. In addition to the free tests and learning if you had, or currently have COVID-19, you can talk to the public health worker about how COVID-19 has affected you and your family as well as any concerns you have about the disease.
For more information about this study, visit CASPER: COVID-19 Public Health Survey
Posted on
Tuesday, September 15, 2020 - 3:08 p.m.