Ramsey County receives LGBTQ accreditation for child foster care and adoptions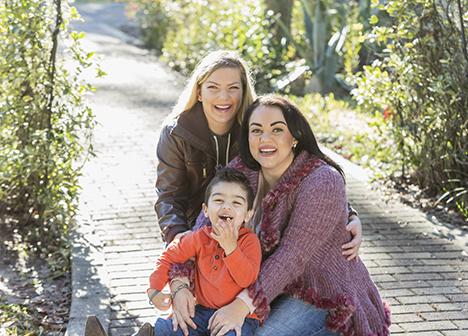 In February, Ramsey County became the first agency in Minnesota to receive the Human Rights Campaign's All Children-All Families Seal of Recognition. With this recognition, the county is designated as a leader in achieving safety, permanency and well-being of LGBTQ youth and families.
Child foster care and adoptions earned the accreditation by meeting All Children-All Families 10 Key Benchmarks of LGBTQ Cultural Competency. These benchmarks guide agencies to assess and improve existing practices, from client non-discrimination policies and inclusive agency paperwork, to staff training and creating an LGBTQ inclusive environment.
"We pursued the All Children-All Families seal simply because it is the right thing to do for Ramsey County children and service providers," said Kim Cleminson, division director of children and family services. "We are committed to bolstering the self-worth of all children while supporting them to love themselves without judgment or shame."
Completing the All Children-All Families benchmarks guided child foster care and adoptions to update forms with more inclusive language, hang All Are Welcome signs and rainbow flags in Social Services buildings, and add gender identity language to non-discriminatory policies, staff trainings and other promotional materials.
Ramsey County plans to continually improve their services and outreach to the LGBTQ community. This year, foster care and adoptions will focus on LGBTQ recruitment, host ongoing trainings for staff, participate in community events like PRIDE, and develop more relationships within the community. They will also partner with the American Indian community to provide information and staff training about serving Two-Spirit/Native LGBTQ individuals.
Receiving the seal is just the beginning of work to provide better services for Ramsey County children and providers. Children and family services intends to keep the seal indefinitely, which means they will have the opportunity to reassess their materials and practices every two years. The division is also working with the Minnesota Department of Human Services to create a best practices guide for working with all youth and families that can be used across the county and state.
Interested in learning more about becoming a foster care provider? Register for an upcoming orientation.
HRC's All Children-All Families project promotes LGBTQ cultural competency among child welfare agencies through innovative resources, including and online agency self-assessment tool, comprehensive staff training, free technical assistance and more. Learn more on the Human Rights Committee's website.
Posted on
Tuesday, March 13, 2018 - 9:06 a.m.