Ramsey County receives national Emergency Management accreditation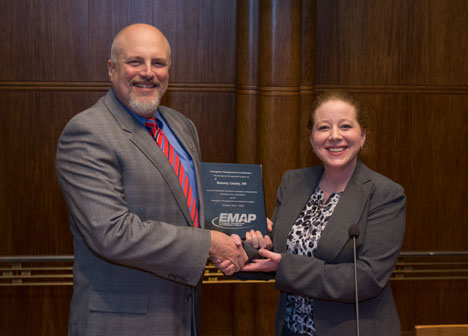 Ramsey County received certification from the national Emergency Management Accreditation Program (EMAP) at the agency's October 26, 2017 meeting. Ramsey County is the first Minnesota county to have achieved this certification. 
The accreditation represents a significant achievement for Emergency Management & Homeland Security and our partner agencies. To obtain accreditation, the county demonstrated compliance with a list of 64 industry standards and completed a peer-review on-site assessment by a team of EMAP trained assessors. The accreditation recognizes the county's ability to bring together personnel, resources and communications from a variety of agencies and organizations in preparation for and in response to a disaster of any type.
EMAP Executive Director Nicole Ishmael presented the certification and plaque during the January 9, 2018 Ramsey County Board of Commissioners meeting.
To learn more about the accreditation process, visit emap.org.
Posted on
Tuesday, January 9, 2018 - 11:34 a.m.