Ramsey County receives SolSmart Silver designation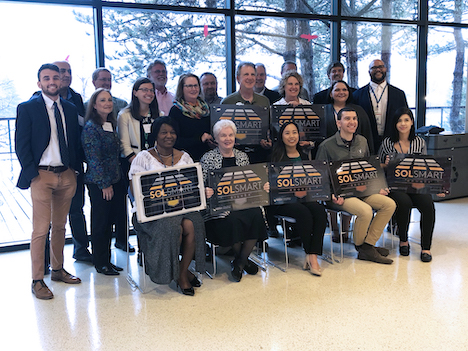 As we celebrate Earth Day and our commitment to environmental protection, Ramsey County is proud to announce it has received SolSmart Silver designation.
The county received its official designation on April 17 at a solar permitting best practices workshop in Maplewood. In addition to Ramsey County and SolSmart, the event was co-hosted by the Metropolitan Council and the Great Plains Institute.
"The day began with a ceremony congratulating designated communities for their bold actions to make installing solar faster, easier, and more affordable," SolSmart said in a news release.
According to a 2018 census conducted by The Solar Foundation, the Twin Cities is one of the fastest growing metropolitan areas for solar jobs.
Following the designation ceremony, Ramsey County Commissioner Victoria Reinhardt spoke about the county's commitment to solar energy and its efforts to reduce emissions. Reinhardt is the chair of the Energy, Environment and Land Use Steering Committee of the National Association of Counties.
Vist our Solar Resources page to learn more about our commitment to promoting renewable energy development and reducing greenhouse gas emission.
Posted on
Monday, April 22, 2019 - 11:09 a.m.