A record year for finding loving homes and keeping families together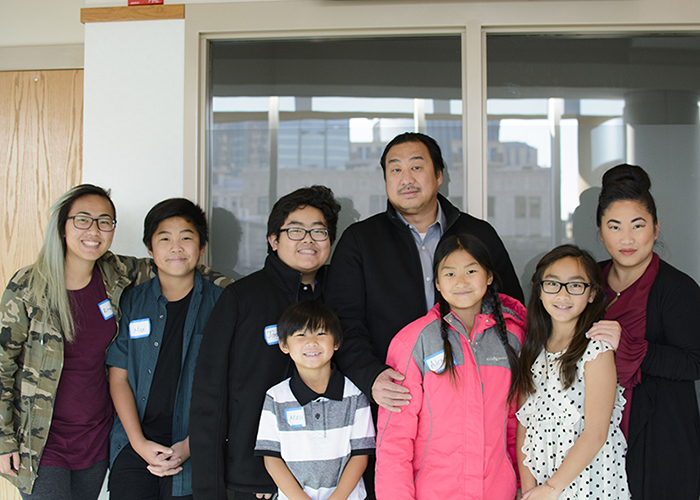 There's no doubt that we have much to be thankful for this year, especially opportunities to celebrate the holiday season with loved ones and family members. Thanks to the work of our adoptions staff and the love of adoptive parents, more than 130 Ramsey County youth and teens previously in foster care will be spending the holidays this year in their forever homes.
Following Saturday's National Adoption Day we reflect on incredible stories of Ramsey County youth finding their forever homes including the adoptions of three older teens, many finding families with relatives and the first adoption to occur within the Red Lake tribe.
2021 was a record year for finalized adoptions and was made possible by changes in court policies due to COVID-19 and the dedication of our adoptions staff, judges and families. With the continued ability to meet virtually, adoptions staff was able to connect more frequently with all parties, develop deeper connections, and better able to support families in moving the adoption process forward. There is no doubt that COVID-19 brought many challenges, but in the long run, it has allowed adoptions/foster care staff and the courts do their work more efficiently and better meet families where they are at. 
Partnering with community to keep youth with their birth families
As much as our adoptions staff is working to place children in foster care into forever homes, child protection staff are working just as hard to keep youth in their homes to provide and sustain family ties that are so essential. Before a child ever enters foster care, Ramsey County Child Protection workers do their best to help provide families with resources to overcome barriers so they can remain a healthy family unit. 
While this has been the main focus for quite some time, in the past two years, the Child Protection Services Unit (CPS) and Early Intervention Team (EIT) have incorporated new initiatives like the Signs of Safety approach that increases partnerships with families to find culturally appropriate solutions to safety concerns involving their children. Through this approach, staff work with parents, their families, and their broader community through family group decision making conferences to develop honest, detailed, child-focused safety plans that articulate what needs to happen for an out-of-home placement to be avoided. 
Just as the African proverb teaches, "it takes a village to raise a child", the EIT and CPS workers know every parent deserves support and every child deserves the opportunity for their village to keep them safe and thrive at home.
The EIT facilitated more than 70 family group decision making conferences so far this year to develop plans with families for the safety and well-being of their children. About half of these meetings occurred at the very beginning of CPS involvement to prevent an out-of-home placement. 
Children from African American and Native American families are removed from their homes at higher rates in Ramsey County and throughout the state. While the gap remains significant, Ramsey County saw the rate of removals of African American children decline by almost in half last year when compared to 2019. We also saw a reduced rate of removals among Native American children from 2020 compared to 2019. 
Healing children and families whenever possible
When youth do enter foster care, case workers and licensed providers continue to work with birth families to help make reunification happen through case plans, referrals to community resources, financial support, and regular ongoing supervised and unsupervised visits. Today there are about 393 youth in Ramsey County foster care, 148 of these youth are placed with family or kin.
If it is determined through the judicial process that children cannot safely return to their birth homes, they can spend up to four years in foster care waiting for adoptive families, according to national statistics. There are currently 287 Ramsey County youth in foster care waiting for their forever homes.
We are so grateful to the 390 committed licensed foster care providers in Ramsey County, 80% of whom are family/kin, who open their homes to children during this uncertain time in their lives. Last month, our commissioners were joined by foster care providers and staff for a proclamation at the board meeting.  We are proud that Ramsey County is ahead of the curve in identifying forever homes with relatives and kin.
By the end of the year, more than 150 youth in Ramsey County foster care will be adopted. We expect 70-75% of those adopted in 2021 will have found homes with extended family members, reflecting the dedicated efforts of our adoption workers to keep families together whenever possible.
When children are adopted by extended family, trauma is minimized, behavioral and mental health outcomes improve, and cultural identities and community connections are preserved. Those outcomes are things all of us – children, families, friends, neighbors and our community at large – can be thankful for.
Posted on
Tuesday, November 23, 2021 - 10:11 a.m.