Recycle to grow the economy this America Recycles Day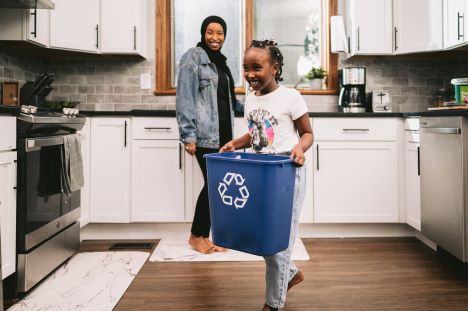 As we celebrate America Recycles Day on Nov. 15, we are taking a look at the ways recycling can help our communities. Most people know recycling benefits the environment. You might not know that recycling supports the economy, too.
Collecting recyclables is just the first step in recycling. For recycling to work, someone needs to turn recycled materials like paper, bottles and cans into new products. Manufacturers will only do that as long as consumers and businesses buy the products they make from our recyclables. 
What can you do?
Put the right things into your recycling cart.
Make sure items are clean and dry so manufacturers can use them to make new products.
Buy products made from recycled materials, such as:
Tissues, paper towels and other paper products made from recycled paper.
Patio furniture, decking and landscaping products made from recycled milk jugs.
Clothing and carpet made from plastic beverage bottles.
Compost made from food scraps.
And more.
When we do this, we strengthen businesses that rely on high-quality recyclables to make high-quality recycled products for our homes and businesses. This supports about 36,000 jobs in Minnesota.
For example, WestRock in Saint Paul is a local company that relies exclusively on recycled paper to make cereal boxes and other paper packaging products. WestRock has approximately 400 employees. The more companies that use recyclable materials, the more we can recycle —supporting the economy and the environment.
Learn more about how consumers, businesses and government can work together to improve recycling and our economy.
This article is featured in Green Ramsey, an environmental health newsletter from Ramsey County. 
Learn more about and subscribe to Green Ramsey.
Posted on
Monday, November 1, 2021 - 8:00 a.m.