Register your Night to Unite event by July 14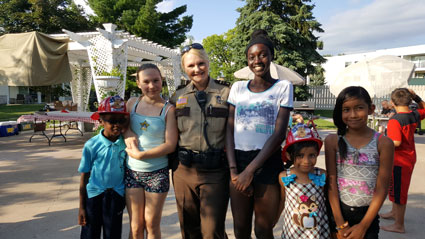 Residents and businesses in Arden Hills, Gem Lake, Little Canada, North Oaks, Shoreview, Vadnais Heights and White Bear Township are encouraged to register their Night to Unite event with the Ramsey County Sheriff's Office. Please register your event by Friday, July 14, 2017 to ensure deputy visits to your event. Organizers in other communities in Ramsey County should contact their local law enforcement agency for more information. 
Night to Unite is an annual statewide event that brings neighborhoods and pubic safety personnel together for an evening to promote safe communities by heightening crime/drug prevention awareness, generating support in crime prevention programs and strengthening public safety-community partnerships. 
Night to Unite:
Heightens crime and drug prevention awareness.
Generates support and participation in crime prevention and community policing programs.
Strengthens neighborhood spirits and public safety-community partnerships.
Lets criminals know that you are committed to keeping your neighborhood safe.
Unites neighborhoods across the state as they display outdoor lights and front porch vigils.
Celebrates with a variety of events and activities, including block parties and cookouts, with visits from sheriff's offices, police and fire departments and elected officials.
Learn more about registering your event and access planning resources.
Posted on
Wednesday, June 14, 2017 - 10:55 a.m.