Retiring Medical Director's legacy is client-centered care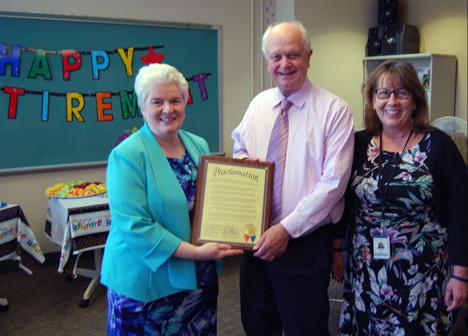 Dr. Neal Holtan, a pioneer in advocating for changing medical care and public health to make it more responsive to client needs, is retiring after 29 years as Medical Director at Saint Paul – Ramsey County Public Health. The Ramsey County Board of Commissioners proclaimed Tuesday, June 27, 2017, as Neal Holtan Day in honor of his compassionate care to county residents, his advocacy for immigrant health and his work to mentor medical residents about the unique role of local public health.
Holtan was a member of a small volunteer medical team sent in 1979 by the American Refugee Committee to tend to sick and starving refugees on the war-torn Thai-Cambodian border. His experiences there convinced him of the need to change medicine and public health to improve the care of the thousands of new immigrants who began arriving in Minnesota starting in the 1970s. 
Holtan was working as a physician at Saint Paul – Ramsey Medical Center (now Regions Hospital) and when he returned from the refugee camp, worked to create what is now the Center for International Health.
In addition to serving as the International Clinic's director for its first seven years, Holtan was also the founding physician of The Center for Victims of Torture during this time. In 1987, Holtan was appointed Medical Director of Saint Paul – Ramsey County Public Health, where he previously had provided primary and tuberculosis care on a contract basis. Holtan said the switch to public health was a good fit for him because of the big picture approach it takes and its emphasis on preventive medicine. 
Holtan has been a mentor to numerous medical residents over the years and an advocate for educating them about the unique role of local public health. Bridging the gap between medicine and public health has always been his over-arching goal. "Neither side understands the other: how both are needed and how they can interact," he said. "That's why I think it's important to have medical residents come to public health and why I think public health needs to have some clinician -- so that divide doesn't grow."
Holtan retires June 30 from the part-time position at Saint Paul – Ramsey County Public Health as well as his medical consulting practice. He plans to concentrate his time on writing and speaking on medical history. His histories of 22 former staff and patients from the Anoka State Hospital going back to 1949 has been accepted for presentation at a national meeting of the Oral History Association.
Posted on
Thursday, June 29, 2017 - 3:32 p.m.