Rice Creek Commons receives environmental award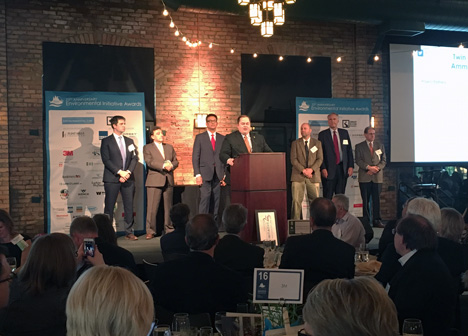 Ramsey County was honored for its work on Rice Creek Commons, the redevelopment at the former Twin Cities Army Ammunition Plant site, at the 25th Anniversary Environmental Initiative Awards this week.
Hosted by the nonprofit Environmental Initiative, this annual awards program honors innovative environmental projects that have achieved extraordinary results by harnessing the power of partnership. This year, seven award recipients won in categories ranging from sustainable business to community action.
Ramsey County was recognized for its leadership in sustainable demolition of the vacant munitions factory, removal tons of hazardous waste, and remediation of the soil on the property to residential standards. A section of Rice Creek that runs through the site was also transformed back to its original path, which created nearly 2,000 feet of stream and restoring the floodplain.
Thanks to this completed work, Rice Creek Commons will soon be a community of residential and commercial neighborhoods integrated with a network of trails, green corridors, and pedestrian-friendly streets.
This award also recognizes the high level of collaboration and cooperation between the project partners. Throughout the project, both public and private sector organizations and governmental bodies worked together to develop the land. In addition to Ramsey County, the following project partners were also awarded at the May 25 ceremony:
Posted on
Thursday, May 25, 2017 - 1:58 p.m.