Rush Line project elements confirmed for study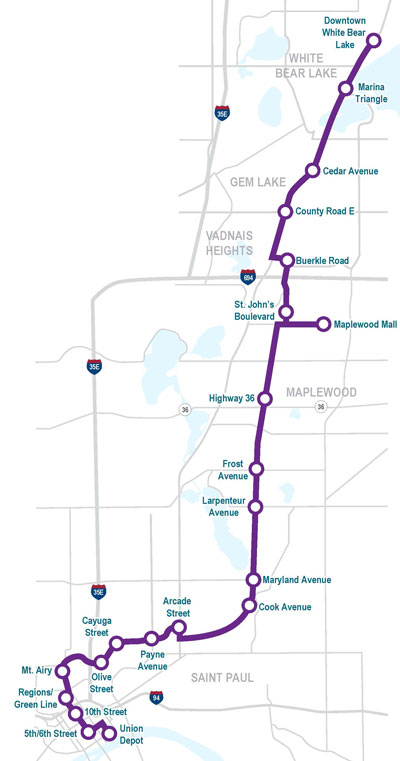 On Thursday, Sept. 27, 2018, the Policy Advisory Committee of the Rush Line Bus Rapid Transit (BRT) Project confirmed the project's recommended elements – including station locations and routing changes – for study in the environmental assessment phase of the project.
The study will now include several recent, publicly-driven modifications to project plans, including:
Adding an additional station at Buerkle Road (White Bear Lake) – to improve access to more than 3,000 jobs in this area.
 
Modifying routing to St. John's Hospital and Maplewood Mall Transit Center – to improve user access to these locations.
 
Modifying the location of the Arcade Street and Maryland Avenue stations and adding an additional station at Cook Street – to improve access in East Side Saint Paul neighborhoods.
 
Identifying a potential location for the downtown White Bear Lake station – further evaluation and engagement will be done to ensure the station addresses transit user needs and fits within the downtown's character.
 
Modifying routing in downtown Saint Paul – to improve efficiency of service.
Public input influences project design
The recommended elements in the Rush Line BRT Project were informed by input obtained through public engagement and the project's Technical and Community Advisory Committees. In late 2017, officials from every community along the planned Rush Line BRT route – Saint Paul, Maplewood, Vadnais Heights, Gem Lake, White Bear Lake and White Bear Township – publicly endorsed the route and service.
Although the start of Rush Line BRT construction is still six years away, when it opens, the Rush Line is projected to serve some 100,000 local residents and provide access to more than 106,000 jobs.
Next steps 
The next major steps for the Rush Line BRT Project through early 2020 will include additional refinement of route and station area plans, further environmental review and ongoing public engagement. 
New online interactive map ready for your input
See the proposed Rush Line route and share your comments via a new online interactive map. The easy-to-use map interface allows you to place your comments and input directly on locations along the route.
View interactive Rush Line route map
You can also provide input online, by calling 651-266-2760 or meeting with the project team in person at an upcoming public engagement event.
Posted on
Tuesday, October 2, 2018 - 11:31 a.m.