September is National Preparedness Month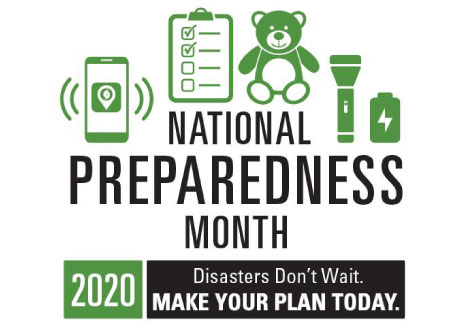 September is National Preparedness Month and serves as a time for everyone to take actions to prepare for the types of emergencies that could affect our region.
Ramsey County Emergency Management & Homeland Security has information available to help you learn about local dangers and prepare for a disaster. Each week throughout the month is themed to help residents better prepare: 
Week 1, Sept. 1-5: Make A Plan.
Week 2, Sept. 6-12: Build A Kit.
Week 3, Sept. 13-19: Prepare for Disasters.
Week 4, Sept. 20-26: Teach Youth About Preparedness.
Learn more about National Preparedness Month and how to prepare for emergencies at home, work or on the go at ready.gov. 
Four steps to preparedness
Make sure that you're prepared for disasters at home, work or on the go by following these four steps:
Disaster preparedness town hall
Join the Sept. 28 town hall to learn basic tips on what residents, businesses and community organizations can do to prepare for risks like severe weather, power failures and disease outbreaks.
Posted on
Monday, August 31, 2020 - 3:01 p.m.