Sheriff's Office to host 2016 Scouting Day on Feb. 20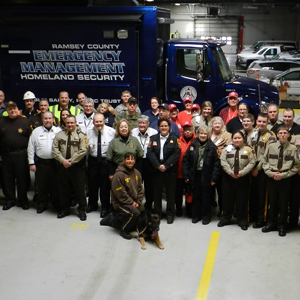 The Ramsey County Sheriff's Office will host Scouting Day 2016 on Saturday, Feb. 20 from 9 a.m. to noon at the Ramsey County Sheriff's Office Patrol Station, located at 1411 Paul Kirkwold Drive in Arden Hills.
Scouting Day is a special event where Boy Scouts, Girl Scouts and Cub Scouts learn about the work performed by public safety agencies in Ramsey County. The event includes tours of the Sheriff's Patrol Station, educational activities and demonstrations. Youth and families can interact with deputies, officers, and volunteers from Crime Prevention, DARE, K-9 Unit, S.W.A.T. Team, Water Patrol Dive Team, Community Support Services, Lake Johanna Fire Department, Army National Guard and more.
Registration
Scout Troop leaders are encouraged to sign up by Friday, Feb. 12
For more information, contact Vikki Rensch with Community Support Services at 651-266-7332.
Posted on
Monday, February 8, 2016 - 9:15 a.m.