Soil & Water Conservation staff member recognized by local watershed district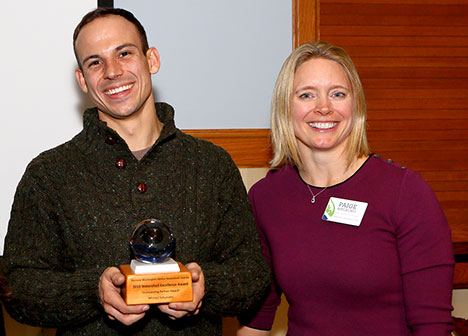 Michael Schumann was honored with the 2019 Watershed Excellence Award for Outstanding Partner by Ramsey-Washington Metro Watershed District (RWMWD). Schumann is a Landscape Designer for Ramsey County Parks & Recreation's Soil & Water Conservation division.
The award recognizes individuals who have made significant positive impacts on the watershed. Schumann was nominated for being a key partner in RWMWD's stewardship grant program for the last five years. The grant provides public and private landowners with funding for property improvements that benefit water quality and natural resources.
RWMWD expressed appreciation for the exemplary service Schumann has provided to Ramsey County property owners with projects ranging from small residential rain gardens to larger shoreline restoration projects. They cited his efforts to understand property owners' concerns, availability to answer their questions and creativity when coming up with projects that fit both individual needs and grant guidelines.
"Our stewardship grant program would not be the successful program it is today if it were not for the skillful and extra efforts put in by Michael," wrote Sage Passi, Watershed Education Specialist at RWMWD.
Schumann was recognized along with other local citizens and conservation professionals at a ceremony held on Nov. 14 at Keller Golf Course.
Posted on
Tuesday, December 10, 2019 - 9:42 a.m.