Thrifty gifting: An Earth-friendly guide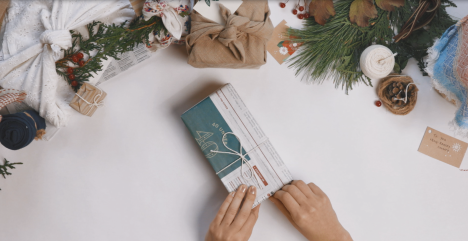 Gifts are a beautiful way to show love, support, gratitude and dedication to those we care about. But what happens when the stuff becomes just that -- more stuff? This year, we challenge the Ramsey County community to consider these eco-friendly and thoughtful gift ideas.
1. Give your time.
Pick a date and time to spend with someone you care about. Whether you celebrate in style, or keep things simple, the real gift is quality time.
Try this: Check out two copies of the same book from the Ramsey County Libraries and read them at the same time in the same place.
2. Give an experience.
Do something fun together! Go to a museum. Cook delicious food. Exercise together. Volunteer. Take a day trip. See a movie. Enjoy a "crafternoon". There are many budget-friendly options, including free offerings through Ramsey County Libraries, Ramsey County Parks & Recreation and Union Depot.
Try this: Be quintessentially Minnesotan for a day. Wear something with flannel, go snow shoeing, eat tater tot hotdish, and say "ope" a lot.
3. Give used goods.
It's true - finding used goods can take more intention and time, and you might not find exactly what you're looking for. But consider this: there is a lot of stuff out there with a lot of life left. And you'll likely save some money.
Try this: Purchase a used sewing machine. Older models are built to last!
4. Give local goods.
This is a fun one. Drop by a locally owned shop, holiday market or craft show. Gift certificates to local eateries, services and shops are great, too!
Try this: Discover a quality handcrafted item at the old-fashioned holiday bazaar at the Landmark Center.
5. Give goods that can be used up.
Pick out a fancy food item, like unique spices, a bottle of good-quality olive oil or flaky sea salt. Pamper your loved one with soaps, lotions or other cosmetics they can use up (try to get items with recyclable containers). And for the DIY-er in your life, consider a year's supply of duct tape, carpenter pencils or zip ties.
Try this: Pick out some really good locally roasted coffee, a pint of heavy cream and Minnesota maple syrup.
6. Give gifts in sustainable gift wrap.
Finally, when your gifts are all set, get creative with eco-friendly gift wrap! Check out our newest video to get inspired.
Enjoy this holiday season, Ramsey County residents! May your gift-giving be joyful and meaningful.
Here's something you might not know: Ramsey County Environmental Health's work (even this article) is greatly influenced by the waste reduction hierarchy. Check it out and learn something new.
This article is featured in Green Ramsey, an environmental health newsletter from Ramsey County. 
Learn more about and subscribe to Green Ramsey.
Posted on
Wednesday, December 1, 2021 - 8:00 a.m.