Tips to stay on top of hazardous waste regulations with a changing workforce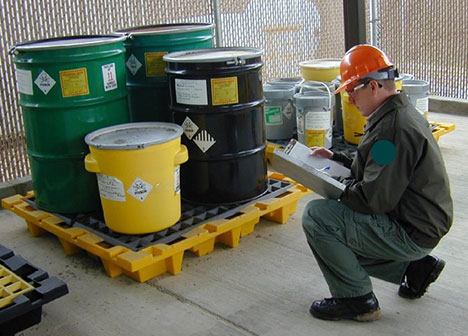 The pandemic and resulting shift in the workforce has been challenging for many businesses. Competing priorities and staff shortages sometimes mean hazardous waste management is put on the backburner. Consider these tips to ensure your business stays in compliance even with staff changes.
Organize your records
Generators are required to maintain hazardous waste disposal records for at least three years. Paper or electronic, they need to be available during an inspection. Organize records in an easy-to-find, well-labeled binder or shared digital drive and tell others where to find them.
Crosstrain
Employees with hazardous waste or emergency management duties should have hazardous waste training (required for SQGs and LQGs). Encourage others in the workplace to take the training as well. Ramsey County's free, online hazardous waste training is a good place to start.
Have an onboarding plan for new staff
Develop a hazardous waste management job aid for future staff. Include your inspector's contact information, educational resources and instructions for internal hazardous waste practices.
Contact your inspector with questions
Hazardous waste regulation, licensing and re-licensing can be confusing, especially for those new to the processes. Your inspector is here to help, so feel free to contact them with questions.
Let us know about changes to your business
Let your inspector know if your business closes, changes ownership, changes location, or begins generating a new waste stream. These changes are important in keeping your license accurate and maintaining compliance with all applicable rules and regulations.
Keep the hazardous waste portal updated
The hazardous waste portal is our primary means of tracking generator contact information. Make sure the site, mailing, billing and emergency contact information is up to date, especially if you have new staff coming on board.
This article is featured in the Haz Waste Quarterly, an environmental health newsletter from Ramsey County. 
Learn more about and subscribe to the Haz Waste Quarterly.
Posted on
Tuesday, June 28, 2022 - 8:00 a.m.