Volunteer as a business mentor for the Pay It Forward program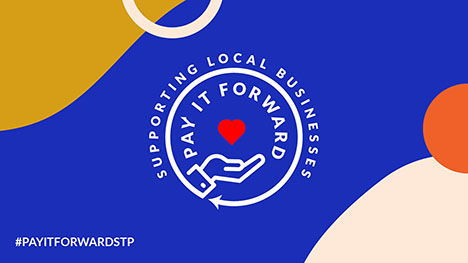 Volunteers are needed for Pay It Forward, a new program providing free assistance to local businesses by helping them navigate COVID-19 grant and loan relief opportunities. The program will connect financial professionals with small business owners in Saint Paul and suburban Ramsey County who are seeking assistance.
The program was launched by the City of Saint Paul, Ramsey County, Saint Paul Area Chamber of Commerce, SCORE Saint Paul, African Economic Development Solutions, Hmong American Partnership, Latino Economic Development Center, Metropolitan Consortium of Community Developers and Neighborhood Development Center.
Volunteer
Pay It Forward is currently looking for a diverse group of experienced volunteers to serve as business mentors. Based on skills, availability and language abilities, volunteers will be screened and trained by a SCORE Saint Paul advisor or community partner and then matched with local business owners to assist with their specific needs. Pay it Forward business mentor volunteers are community members with business and financial expertise.
To ensure all businesses in our community can access this new program, community members who can speak Hmong, Somali, Oromo, Spanish and Karen are strongly encouraged to apply. Interested community members can apply to serve as a business mentor on the program home page.
View additional COVID-19 business resources 
Posted on
Thursday, May 14, 2020 - 5:06 p.m.