Welcome to three new neighbors at VSC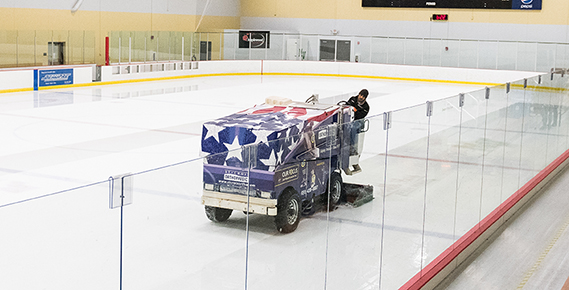 When Ramsey County acquired the Vadnais Sports Center in 2014, the Parks & Recreation department assumed operation of the facility and quickly put it on a financially-sustainable path.
Also included in the property purchase were three smaller undeveloped lots valued at about $750,000. Ramsey County has now closed on the sale of all three of those properties, and we're excited to welcome our new neighbors and more than 55 employees who will be newly working in Vadnais Heights and Ramsey County.
We were pleased to welcome Peoples Bank Midwest to their new location when it opened in November of 2016. Twelve employees have moved from two offices and two new employees joined the company, and they are working in the new, nearly $1 million building. A parking agreement between the county and Peoples Bank takes advantage of complementary hours of operation to optimize parking for bank customers and sports center participants and spectators.
Gentry Academy began construction of a $4.2 million project on the site in the fall of 2016 in preparation for opening this fall. According to Gentry, more than 20 teachers, coaches, administrators and nurses – including 17 new staff – will begin educating middle and high school student athletes at this location. Programming will include ice and turf hours at the adjacent sports center.
This spring, Twin Cities Orthopedics (TCO) will begin construction of a new $4.5 million office on the third adjacent lot. TCO says that up to 10 of the location's 18 specialists and support staff are expected to be new employees. TCO staff provide a full spectrum of care for injuries and conditions affecting muscles, joints and bones.
Together, the $10 million in new construction on these three lots will provide nearly $375,000 in property tax revenue per year – easing the burden on our current residents and businesses. In addition, the sale of the lots for more than $960,000 provided more than $208,000 in additional revenue to the county's general fund which benefits taxpayers by offsetting other expenses.
Visit Vadnais Sports Center and the new businesses at the corner of Highway 61 and County Road E in Vadnais Heights.
Posted on
Wednesday, January 25, 2017 - 5:50 p.m.