White Bear Ave. reopens following reconstruction, new HAWK system installed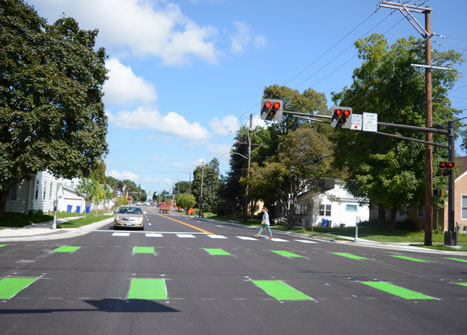 Ramsey County Public Works, in cooperation with the city of Saint Paul, is putting the finishing touches on the reconstruction of White Bear Avenue from I-94 to Beech Street. The roadway reopened on Friday, Aug. 25. 
The two-year street reconstruction included new concrete curb and gutter, bituminous pavement and water main. Lantern-style street lighting and new sidewalks with updated pedestrian curbs were added, along with a new signal system at the intersection of Old Hudson Road and an accessible pedestrian signal was added to the existing system at the 3rd Street intersection. Existing driveway aprons were replaced with concrete and boulevard trees were removed and replanted. New sod was also placed. 
HAWK crosswalk system
The county's first high-intensity crosswalk system (HAWK) was installed at the intersection of Margaret Street across White Bear Avenue. The HAWK system uses special hybrid beacons to warn and control traffic at intersections with no signal. The system is designed to increase safety for pedestrians and bicyclists crossing a street within a marked crosswalk. 
Drivers, cyclists and pedestrians should keep the following information in mind when using the new system:
When approaching the intersection, pedestrians and bikes must press the button to activate the HAWK system and wait while the light turns yellow, warning oncoming cars that they will need to stop soon.
Once the light turns solid red, drivers must stop and pedestrians and bikers can continue across the intersection. 
After a hard red, the light will change to a flashing red. Remember, on a flashing red, drivers must first stop before continuing through the intersection if the crosswalk is clear.
While the HAWK signal is not in use, drivers may continue through the intersection, while pedestrians see a "Don't Walk" sign. 
Posted on
Tuesday, August 29, 2017 - 4:18 p.m.