Winter fun at Ramsey County parks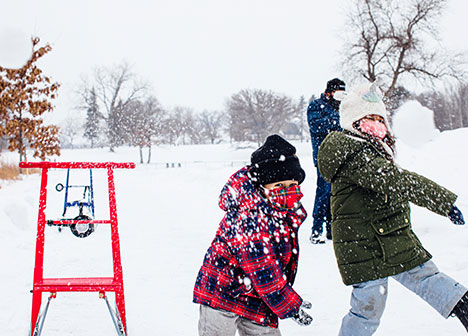 Ramsey County Parks & Recreation offers a wide variety of outdoor activities for all ages all year round! Head to the park and embrace the fun of winter – go sledding, skiing, snowshoeing and more. Here's what you can expect to find during the upcoming season.
General information
Ramsey County is home to nine county parks, six regional parks and five regional trail corridors. Find a park or explore our trails.
All parks offer plowed parking or easy street parking, and as always, entry and parking is free. Portable toilets are available at select locations.
Activities
Trails
Take to the trails by foot, snowshoes or fat bike. All regional trails will be plowed and accessible throughout the winter, and each park has opportunities to use plowed, multiuse or natural snow trails. Explore the winding trails that offer a spectacular look at Ramsey County's diverse landscape. Find a trail.
Sledding & tubing
Fly down the snowy slopes of our designated sledding areas at Battle Creek Regional Park, Rice Creek Regional Trail, Tamarack Nature Center and Vadnais-Snail Lakes Regional Park.
Cross-country skiing
Enjoy 25 miles of marked and groomed cross-country ski trails at Battle Creek Regional Park, Vadnais-Snail Lakes Regional Park and Tamarack Nature Center. Battle Creek Regional Park West offers lighted trails for skiing until 9 p.m. A Minnesota State Ski Pass is required to ski on all trails for skiers age 16 and above. View trail rules, locations and conditions. 
Snowshoeing
Snowshoeing is permitted in all parks except on designated and groomed cross-country ski trails or areas plowed for pedestrians. Visit the designated snowshoe trail at Tamarack Nature Center, or see why the multi-use groomed trail at Vadnais-Snail Lakes Regional Park is a local favorite.
Ski and snowshoe rentals
No skis or snowshoes? No problem. Cross-country ski rentals are available at the Battle Creek Recreation Center again this year. Call 651-501-6347 for more information. Tamarack Nature Center also offers on-site cross-country ski and snowshoe rental. The Winter Recreation Rental Shack will outfit you with everything you need for a scenic winter trek through the snow-covered prairie and woodland. The rental shack is anticipated to reopen on December 18, weather permitting, with COVID-19 modifications in place. Hours throughout the season may be dependent on snow and trail conditions.
Dog parks
Don't forget about your canine friends! Visit one of our four off-leash dog parks to give your dog a chance to romp, pounce and play in the snow too.
Ice Castles
Make plans to visit Ice Castles at Long Lake Regional Park this year. The frozen attraction features tunnels, caverns, towers, fountains, slides and crawl spaces built entirely from icicles that are grown on site, harvested, and hand-placed by professional ice artisans. The winter playground will also include an ice sculpture garden and a winter light grove this season. The attraction is anticipated to open January 2022, and tickets can be purchased online through the Ice Castles website.
Other winter fun
County park boat launches will be open and plowed for ice fishing and other lake activities. Winter can be an excellent time to bird watch, and the parks are a great setting for this activity, with about 35 species to look out for this time of year. 
Programs
Join in on exciting, organized programming taking place over the winter season. Tamarack Nature Center provides a variety of ski and snowshoe classes and lessons for kids and adults, among other program offerings this year. 
Sharpen your skating skills or join others for an easy-going pickup game of hockey this season. Open Skate and Open Hockey are back this year! Admission is free and open to the public, and all skill levels are welcome. Skate rental is available for just $10 per person at Highland Arena and TCO Sports Garden.
Winter activity highlights guide (PDF)
COVID-19 information
Stay active and enjoy the outdoors while preventing the spread of COVID-19. Stay home if you are sick, keep your distance and avoid crowds. Masks are encouraged especially for when social distancing is difficult, including when hiking on trails that may be popular or crowded. View Ramsey County's policies on face coverings (masks).
All formal programs will follow public health guidelines to slow the spread of COVID-19 and are subject to change or cancellation based on the status of the pandemic.
Posted on
Thursday, November 18, 2021 - 12:18 p.m.