Winter yoga series at Tamarack Nature Center begins soon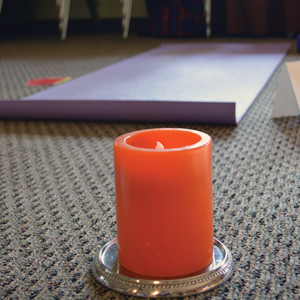 Do your New Year's resolutions include increasing your activity, working on stress relief or trying new actives as a family?
Tamarack Nature Center offers winter yoga series for both adults and families. Both series are open to participants of all practice levels; no former yoga knowledge is required. Participants should bring their own yoga mat or large towel and wear comfortable clothing.
Yoga - A Natural Balance
Yoga is all about balance, including our balance with nature. This multi-level yoga class for adults focuses on increasing flexibility, strength and posture. Participants practice poses, focus breathing techniques and strive towards balancing bodies and minds.
Dates: Wednesdays, January 11 - March 1
Time: 5:30 - 6:30 p.m.
Cost: $64 per adult. Registration is by series only.
Location: Tamarack Nature Center
Family Yoga
Get active as a family this winter at Tamarack Nature Center.
Kids and adults can stretch their minds and bodies while developing flexibility, strength and balance through Family Yoga. This six-week series helps participants learn to listen to their bodies and learn breathing techniques.
Dates: Sundays, February 5 - March 5
Time: 3 - 3:45 p.m.
Cost: $63 per adult/youth pair; $42 additional child; $21 additional adults. Registration is by series only.
Ages: 5-10 with an adult partner
Location: Tamarack Nature Center
Posted on
Monday, January 9, 2017 - 1:35 p.m.