Zachary Hylton and Bridget Marter receive employee recognition awards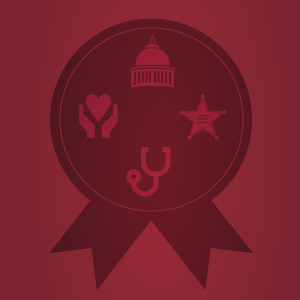 Two county employees were presented with employee achievement awards at the Nov. 9 board of commissioners meeting:
Zachary Hylton, Senior Policy Analyst in the Policy & Planning division.
Bridget Marter, Claims Administrator with Risk Management.
Mr. Hylton was nominated for a Ramsey County Employee Achievement Award in the categories of Excellent Job Performance and Performance Beyond the Call of Duty. Mr. Hylton is known for pushing beyond the status quo and finding new ways to adapt to meet goals. Policy & Planning Director Elizabeth Tolzmann, shared that he always goes above and beyond, juggling multiple strategic, high-impact projects at once. This includes organizing community workshops for improving community indicators and performance measures for the county. Mr. Hylton is also known as a team player who will give credit to colleagues before himself and helps his team in all they do. 
Ms. Marter was nominated for a Ramsey County Employee Achievement Award in the category of "Personal Growth Despite Adversity." Ms. Marter makes decisions about settling or denying claims made against the county. Her job can be very demanding, and she often deals with residents who feel they have been wronged by the county. She is known for her positive, can-do attitude, and her good judgement in settling claims which ensures the county is efficiently using tax-payer dollars. A few years ago, she was diagnosed with breast cancer. Despite dealing with surgeries and doctor's appointments, Ms. Marter continued serving in her role and juggled family responsibilities. Ms Marter's positivity is an inspiration to Melitta Drechsler, who nominated her for this award. Ms. Drechsler said she doesn't know if she could come close to handling the situation as well as Ms. Marter did.
Congratulation to Mr. Hylton and Ms. Marter on this distinguished recognition!
Posted on
Tuesday, November 9, 2021 - 10:40 a.m.