Zebra mussel confirmed at Long Lake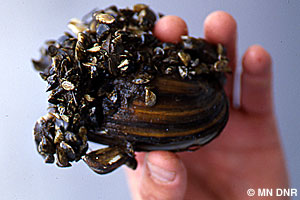 The Minnesota Department of Natural Resources (DNR) has confirmed a zebra mussel found by a contractor conducting an early detection survey in Long Lake in New Brighton.
No additional zebra mussels were found at the lake during a follow-up survey conducted by Ramsey County and the DNR. Since water quality was noted to be poor during the follow-up, additional searches have been planned to confirm if there is an established zebra mussel population in Long Lake. 
This report is in addition to zebra mussels that were confirmed in Lake McCarrons in August 2019, and Bald Eagle Lake and Lake Johanna in 2018.
Ramsey County has an active Aquatic Invasive Species (AIS) Prevention Program and coordinates inspections at the Ramsey County public boat launch sites. Efforts will be made to increase the inspection hours at Long Lake.
Whether or not a lake is listed as infested, Minnesota law requires boaters and anglers to:
Clean watercraft and trailers of aquatic plants and prohibited invasive species.
Drain all water by removing drain plugs and keeping them out during transport.
Dispose of unwanted bait in the trash.
Zebra mussels can compete with native species for food and habitat, cut the feet of swimmers, reduce the performance of boat motors and cause expensive damage to water intake pipes.
More information is available on the DNR's website.
Posted on
Thursday, September 19, 2019 - 3:15 p.m.