Small Business Grant Recipients
Read success stories of businesses that received funding via the Ramsey County Small Business Relief Fund.
Sherralise Group - Ramsey County grant keeps clothing business' dream alive

The impacts of the COVID-19 crisis are far-reaching and unpredictable. Those fortunate to retain their jobs were forced to trade in their corporate environments and business travel requirements for a work-from-home model. For Sherry Walker and Lisa Swan, co-owners of The Sherralise Group, a women's high-quality clothing showroom in White Bear Lake, that translates to less of a need for the products they carried.  
"Many of our clients were not traveling or attending special events or parties, so they did not have as much of a need for our clothing, and we had to respect that," Walker said. "In addition, many of our clients are in that demographic where COVID-19 has a greater impact, so there was some fear of participating in the one-on-one experience we provide."
But thanks to a grant from Ramsey County as part of the federal CARES Act, the duo are able to continue offering their unique shopping experience. 
"We are so grateful for Ramsey County and the grant," Walker said. "We never dreamed we would need help to keep us from closing forever." 
Emergency assistance
Ramsey County has set up a Ramsey County Small Business Relief Fund with funding from the federal CARES Act to provide emergency assistance to small local businesses adversely impacted by the COVID-19 pandemic. The program is managed by the Metropolitan Consortium of Community Developers (MCCD), with grants typically between $7,500 up to $10,000 for small businesses to pay for critical expenses such as rent or mortgage payments, utilities, payments to suppliers and costs associated with reopening. The intent is to help small businesses with a physical location in Ramsey County to survive the current crisis. and help prevent potential future blight scenarios. 
History of success
The relationship between Walker and Swan goes back years to 20 years of experience together as personal shoppers with Dayton's in downtown Saint Paul. When Macy's bought out Dayton's In 2006, they decided to go out on their own with the Carlisle Collection, a women's clothing line made of beautiful fabrics from around the world and based in New York. They purchased and furnished their current space in White Bear Lake in 2007 and their loyal clients followed, and business flourished - until this year. The COVID-19 crisis hit their business hard, like it did with so many others. They locked their doors when the Governor gave the executive order to close all non-essential businesses.  When The Sherralise Group re-opened in June, after the governor's executive order was lifted, they discovered clients were still hesitant to come in with uncertainty surrounding the coronavirus. 
"The grant was a lifesaver and came at the perfect time when we were beginning to wonder how we would make our mortgage payments," Swan said. "Between that and the many expenses of running a showroom, we were barely treading water keeping our business afloat. 
Optimistic about the future
The Ramsey County grant has allowed the pair to eagerly approach the fall season, something they were unsure about just a few weeks ago. They believe clients have become used to state-mandated safety precautions like masks and sanitizing common areas and compared to shopping for groceries, for example, and they are offering the safest shopping experience possible. And they focus on meeting what their customers need to feel beautiful and empowered. 
Empowering women by helping them feel put-together and dressed appropriately for any event is their business mission. They know that comes from trust. Many of their clients have been with them for 25 years.
"That long history together is special," Walker said. "Our clients trust us to make them feel beautiful."
"We are trying to keep our message real for clients and if all they need are tops and scarves for their Zoom meetings, then that is what we will help them with," Swan said.
Yet their optimism comes from their new fall collection, including a new shoe line, that they believe is one of their best in years.
"This really feels like a fresh start for us and our clients," Walker said.
Kia's Love Bugs Childcare - County keeps kids busy as bugs at day care
As the owner of a home day care business on the east side of Saint Paul, Nakia Howard routinely goes out of her way to help the children and families she serves. For example, Howard will provide assistance on weekends if parents need it, at no extra charge.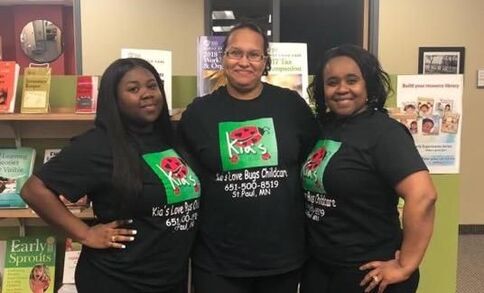 "I am a people person and I believe it is my calling to help," she said. "Not every action requires payment because I know I will receive my blessings."
In the spring of 2020, Howard lost half of her business as the COVID-19 crisis became a reality. But, Howard said she did receive a blessing last summer in the form of a grant from the Ramsey County Small Business Relief Fund, keeping her in business and able to continue providing her service.
Kia's Love Bugs Childcare
Howard began Kia's Love Bugs Childcare in 2016 with three children. Prior to the COVID-19 crisis, her business included 12 total children and two additional staff members. When the pandemic hit, she lost half of her kids as many parents were forced to stay home to work. Howard is very thankful to Ramsey County because her business may not have survived without its help.
"I am not sure I would have even known about the grant availability without them," she said. "Ramsey County went above and beyond to help us, which speaks volumes that they care for the people here."
County supports small businesses
The Small Business Relief Fund is a part of the Ramsey County Investment and Support Efforts (RISE) program, designed to invest $56 million of federal Coronavirus Aid, Relief, and Economic Security (CARES) Act funding in the community by the end of 2020, with about  $15 million directly into the business community. According to Kari Collins, Ramsey County's Community & Economic Development Director, about half of Ramsey County businesses employ five or fewer people and are the most vulnerable to economic flux.
"Many of these small businesses were left out of federal and state aid programs," she said. "The Ramsey County Small Business Relief Fund was targeted toward these business owners to get through a couple of months and pay for rent, utilities and other reopening expenses associated with adapting to COVID-19 guidelines."
"Many of these small businesses were left out of federal and state aid programs," she said. "The Ramsey County Small Business Relief Fund was targeted toward these business owners to get through a couple of months and pay for rent, utilities and other reopening expenses associated with adapting to COVID-19 guidelines."
Kari Collins, Ramsey County's Community & Economic Development Director
Passion and dedication to children and families
Howard's goal is to prepare children for early education into the school system, so when they leave her child care, they are well on their way to school readiness. That preparation includes teaching children how to care for themselves at an early age, such as the proper techniques of hand-washing or how to use the bathroom on their own. And she also seeks to give children the beginning foundation of socialization and understanding other cultures. 
Kia's Love Bugs is open weekdays from 7 a.m. to 6 p.m. Two hot meals and items like baby wipes are included in the tuition. Howard's child care business also participates in the Minnesota Reading Corps, which allows a specialist to work with children on their literacy. It holds a four-star rating with the Parent Aware Program, the highest the program provides as Minnesota's child care quality rating and improvement system. Parents with children in Kia's Love Bugs, like Jessica Lakis, know Howard takes her business seriously. 
"Nakia has worked so hard to ensure that the children in her care have an excellent pre-K education, not only by being in the Parent Aware Program and Minnesota Reading Corps, but also keeping the children engaged in fun learning projects," she said. 
While parents with children at Kia's Love Bugs want the school readiness, they appreciate the warm, loving environment evident there. Lakis has brought her children to Howard for over three years and plans to continue to do so until they head off to elementary school. 
"We are so blessed to have found her child care and for her to be in our child's lives,"Lakis said. "Nakia always goes above and beyond for the families enrolled in her child care, like getting them gifts on their birthdays and making holidays special for them."
Howard's efforts cover a wide range of items. Parents have several opportunities to stay in touch with their children throughout the day, from a private Facebook Live page or pictures emailed by staff to parents. Howard and her staff take the children on frequent outings, with their availability often extending into the weekends for trips to Howard's church. School worksheets are sent home with the kids, and when they have to stay home, she will check in via Zoom to see how they are doing.
"I have had to make a few house calls to make sure the kids are doing the work they are supposed to," Howard said. "I believe it is my calling from God to serve others."
Looking forward
Lakis said the child care facility has always been amazingly clean and inviting for both parent and child. While Howard said she has always been a germaphobe, she has placed even more attention on operating her business in the current COVID-19 climate. Allowing only one parent per child inside the building at a time, placing hand sanitizer by the sign-in logs, wearing masks and requiring hand-washing before entering are all common now. She is hopeful the help exhibited by Ramsey County will spur more good quality child care in her area.
"It is not a competition, because parents want more home-based child care businesses and the one-on-one attention found there," Howard said. "If we can have more of that in our community, we will have less children with colds, infections and just overall more healthy, happy kids."