Silver Lake Road Pedestrian Median
Contact us
A new pedestrian median was added for the Rice Creek Regional Trail crossing on Silver Lake Road in New Brighton. Button activated flashing pedestrian signs will be installed at the crossing. New gate arms were also installed at the railroad crossing. 
The proposed median is a result of a recent safety review of the trail and the Minnesota Commercial Railroad crossing. The median will improve both highway and pedestrian safety. 
View project on interactive map
Subscribe to road project updates
Timeline
Construction is complete. Power has been connected to the rapid flash pedestrian signs.
New railroad crossing arms have been installed.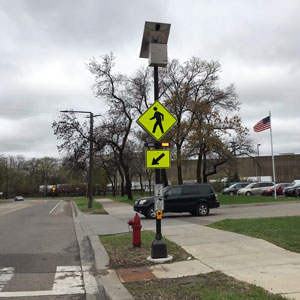 Flashing pedestrian signs
The new rapid flash pedestrian signs will alert cars to stop after a pedestrian pushes a button to cross the road.