Larpenteur Avenue, White Bear Avenue & North Saint Paul Road Improvements
Contact us
Three county roads in the cities of Maplewood and Saint Paul are scheduled for improvements in 2023:
Larpenteur Avenue will be reconstructed between Flandrau Street and Hazel Street.
North Saint Paul Road will be reconstructed between White Bear and Ripley avenues.
The concrete pavement on White Bear Avenue will be repaired between Larpenteur and Frost avenues.
Planned improvements for pedestrians and bicyclists include adding bike lanes to Larpenteur Avenue, ADA signal upgrades and sidewalk replacements. The county and city are evaluating adding a new sidewalk along the west side of White Bear Avenue.
The project will also include utility improvements and traffic signal replacements at the intersections of White Bear Avenue and Larpenteur Avenue and White Bear Avenue and Frost Avenue.
Video: project background and June 2021 status update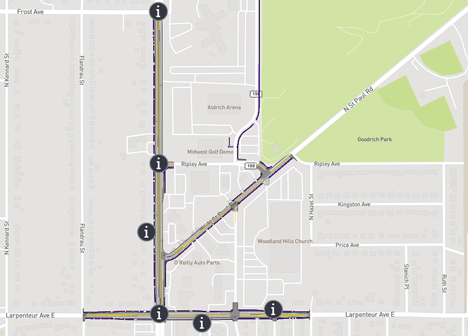 Share your feedback by Feb. 25
Visit the online comment map to submit your thoughts and questions on the refined design with the project team. Comments are open through Feb. 25.