Janice Rettman, District 3
Contact us
Serving citizens in the following communities:
Falcon Heights and Saint Paul neighborhoods of Payne/Phalen, North End/South Como, Como Park, Frogtown and Hamline-Midway.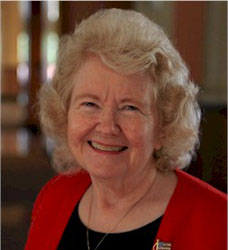 Commissioner Janice Rettman has served residents living in Falcon Heights and portions of the city of Saint Paul on the County Board since April of 1997. Prior to that she served over 11 years on the Saint Paul City Council representing the North End, South Como and Como Park areas and part of the Eastside. With the adoption of the redistricting plan in 2012 Janice now serves all of her previous city council neighborhoods as well as Frogtown and a portion of the Midway area as well as the city of Falcon Heights.
While on the Saint Paul City Council Janice worked closely with community residents and other council members to create effective legislation to deal with problem properties and to make city neighborhoods cleaner and safer.
As a county commissioner and city councilmember she is proud of her work to create equal opportunities in hiring practices, for civil service testing that reflects the duties of the position, for requiring living wages for county contracts, for requiring real opportunities for disadvantaged businesses to access county contracts, for the re-institution of the Environmental Response Fund (ERF) to clean up polluted lands and create new jobs for area residents, and for the implementation of a fiscally responsible budget review process that focuses on completing identified goals and adopted priorities.
With Building Trades and Labor help Commissioner Rettman worked to restore and transform a six-bedroom house into the first housing for veterans in Ramsey County. A District 3 veteran and electrician provided the flag and a lighted flagpole to celebrate the opening.
And based on concerns from district citizens she researched, wrote and created a plan to allow tree and wood waste (branches, trees, brush) to be dropped off and accepted at four of the county yard waste sites. Some of the wood is made into mulch. However, the majority of the wood is picked up and burned at the District Energy plant in downtown Saint Paul as a fuel source producing heat and electricity. Today, this is a very popular and well-used amenity by residents.
Commissioner Rettman believes that government should be responsive to its citizens and provide opportunities for meaningful public input. She works diligently toward improving the fiscal policies and management practices of the county to reflect that input. At the county, Commissioner Rettman ranks quality affordable housing for all, effective service delivery, environmental protection and being creative in developing solutions as priorities. She has two part-time staff, each with expertise in different areas, to assist in meeting these priorities.
Prior to her role on the County Board, Commissioner Rettman served on the Saint Paul City Council, served as director of the Saint Paul Housing Information Office, served as chair and board member of the District 10 Community Council and served as a VISTA Program volunteer.
Committees and commissions
Current news and information
District Council news and schedules
Commissioner Assistants
Administrative Secretary
Ramsey County Board Office
Room 220 Courthouse
15 West Kellogg Boulevard
Saint Paul, MN 55102