Jack G. Serier, Ramsey County Sheriff
As your Sheriff, I want to thank you for your continuing support of the Ramsey County Sheriff's Office. Our organization is filled with people of good character who strive to earn your trust and partnership. It's our goal to be an agency that everyone can rely on each day for great community service.
Sheriff Jack Serier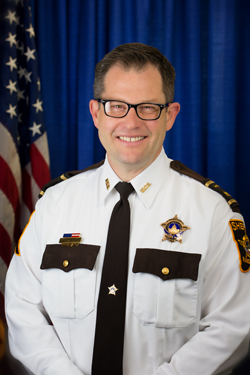 Jack Serier was appointed Sheriff by the Ramsey County Board of Commissioners on January 10, 2017. Prior to being appointed as Sheriff, Jack served for two years as Chief Deputy (2015-2017), Undersheriff of the Public Safety Services Division in Arden Hills (2012-2015), Inspector in policy development, and later as manager of the Water Patrol, Dive Team, and the Canine Unit (2011-2012). 
Before serving in the Sheriff's Office, Jack served as a patrol officer in the Stillwater, Eagan, and Saint Paul police departments. During his time in Saint Paul, Jack also worked as a firearms instructor, training officer, training sergeant/academy commandant, patrol supervisor, investigator, executive officer to an assistant chief, and as a police commander for an investigations and district narcotics unit.
Jack holds a Bachelor of Arts degree from Hamline University. He additionally has earned a Master's degree in Education and a doctoral degree in Leadership, Policy and Administration from the University of Saint Thomas in Saint Paul. Jack is also a graduate of the FBI National Academy in Quantico, Virginia.
Jack loves teaching others and serves as an assistant professor at Saint Mary's University, adjunct faculty at the University of Saint Thomas, and as an instructor for the Minnesota Bureau of Criminal Apprehension's management program. He currently serves on the board of directors of Crime Stoppers of Minnesota and the Northeast Youth and Family Services. Jack was also a scout leader for many years and is an Eagle Scout.    
Jack and his wife of 25 years have two adult children, and they spend time together skiing, hiking, and traveling the western United States.