East Metro Rail Yards Improvement Project
Contact us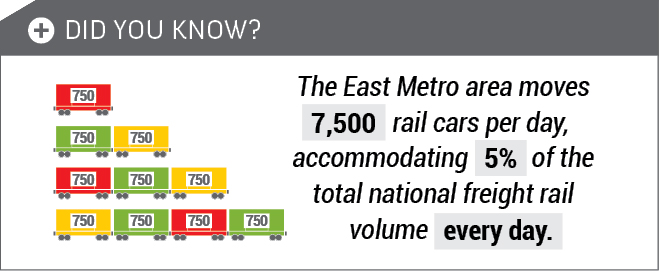 The following elements will be included in the East Metro Rail Yards Improvement Project.
Engineering.
Modeling.
Financial planning.
Public benefit analysis.
Environmental analysis.
Environmental permits and approvals.
Memorandum of understanding framework.
An open house will be held on September 19 from 5-7 p.m. at Battle Creek Recreation Center. At this open house, the project team will share a summary of proposed improvements and preliminary environmental impacts. Light refreshments will be provided.
A community meeting was held on July 24, 2017 to introduce the community to the project. View the information boards from the meeting (PDF)
An East Metro Rail Yards Improvement Project flyer (PDF) is available for sharing.
Project overview video
The East Metro Rail Yards Project Improvement video offers a brief introduction to the purpose and need for the work and highlights some facts about the positive impacts of railroads in the region.