Ramsey County and the 2020 Census
Contact us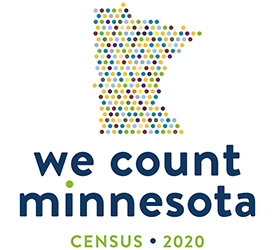 The U.S. Constitution requires a count (census) of all people living in the United States every 10 years.
A complete, accurate census count is necessary for equal political representation, fair distribution of federal and state funding, and sound planning and investment in infrastructure, real estate, business development and public policy.
There will be no citizenship question on the 2020 Census. 
To receive timely text messages updates from the state of Minnesota, sign up to commit to be counted!
Scroll table right to see more
| 2020 dates (timeline updated March 18) | What to expect |
| --- | --- |
| March 12-20 | Census Bureau sends invitations to all households to respond to the online form. |
| March 26 - April 3 | Census Bureau will send two reminder invitations. |
| April 1 | Census Day. |
| April 8-16 | Census Bureau sends paper questionnaire and third reminder to households that haven't responded online. |
| May 27 - August 14 | Census takers visit households that haven't yet filled out their online or paper forms.  |
| December 31 | Final apportionment counts delivered to the President and Congress. |
An important opportunity
Ramsey County has a wealth of diversity, including diverse racial and ethnic communities, thriving immigrant and refugee communities, a large student population, and many English-language learners.
However, the Census has disproportionately undercounted such communities in the past. Both past and projected response rates show that broad areas of Ramsey County, especially Saint Paul, are at risk of being undercounted. Low-wealth areas are particularly vulnerable. The 2020 Census represents an opportunity to have all our residents counted.
How Do I Take the 2020 Census?
Job opportunities
The U.S. Census Bureau needs to hire 8,500 census takers in Minnesota. Diverse candidates and candidates who know locally significant languages (Spanish, Hmong, Somali, Oromo, Amharic, Karen and Vietnamese) are encouraged to apply. Shifts are flexible with full-time, part-time, weekend and evening shifts available. Census takers earn $22.00 an hour in Ramsey County. Learn more by attending an upcoming hiring event.
If selected for a job interview, you may be contacted by phone or email.
View job opportunities at 2020census.gov.
Scroll table right to see more
| Key hiring dates | What to expect from U.S. Census Bureau |
| --- | --- |
| Sept. 2019 - May 2020 | Recruit for census takers. |
| Beginning March 7 | Make job offers and conduct background checks. |
| March - April 2020 | Census taker training. |
| March - July 2020 | Anticipated work timeframe. |
Frequently asked questions