Free Drop-in Discovery: Meet the Owls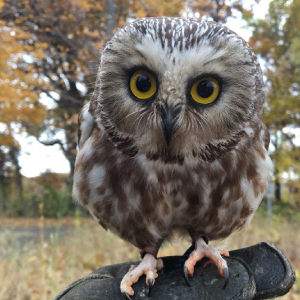 Tamarack's Discovery Hosts will be on-hand on Saturday mornings with nature's most wonderful surprises! Participants can experience up-close visits with live animals, touchable artifacts, drop-in activities and outdoor explorations. Guests may come and go as they please. No registration required. Please check in at the front desk upon arrival. Location will change from week to week. 
Saturday, November 3, 10 a.m. – noon
Children under 14 must be accompanied by an adult.
Join us for up-close time with our long-time resident Barred Owl, Horton, as well as Innu, our new resident Northern Saw Whet Owl. 
10:00 a.m. Barred Owl
10:35 a.m. Saw Whet Owl
11:10 a.m. Barred Owl
11:45 a.m. Saw Whet Owl
Posted on
Monday, October 1, 2018 - 8:41 a.m.