Free yoga classes for all skill levels at Union Depot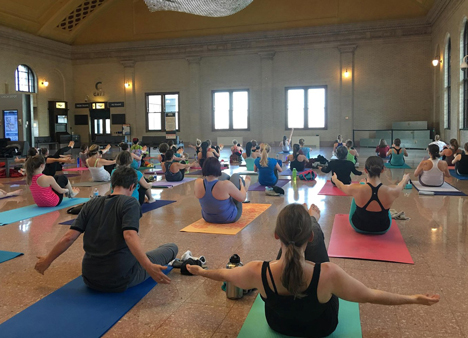 Union Depot and Studio 9-2-5 are continuing to offer free weekly yoga classes in 2020 to help residents achieve their fitness goals.
Classes are led by professional Studio 9-2-5 instructors and are open to participants of all skill levels. Reservations are not required. Participants are asked to bring a yoga mat, water and towel if needed. 
All classes are taught in the Waiting Room unless otherwise noted. To stay up-to-date on yoga classes and other events at the station, check the Union Depot event calendar, Twitter and Facebook.
Schedule
Classes are offered Mondays, Tuesdays and Saturdays.
Mondays: Yoga Sculpt
5:30–6:30 p.m.
Monday night classes are specifically focused on sculpt. Using no weights, this class is a total body workout designed to tone and sculpt every major muscle group. This class will increase the heart rate with an easy to follow program and compliments a regular yoga practice by increasing overall strength.
Tuesdays: Intermediate Yoga
noon–1 p.m.
The Tuesday noon intermediate class offers participants a break from the workday grind.
Saturdays: All-levels Yoga
9–10 a.m.
This all-levels class focuses on balance, strength and deep stretches. It's a great way to start the weekend off with positive energy!
Posted on
Monday, February 10, 2020 - 9:21 a.m.