Junior golf program awarded Minnesota Golf License Plate Grant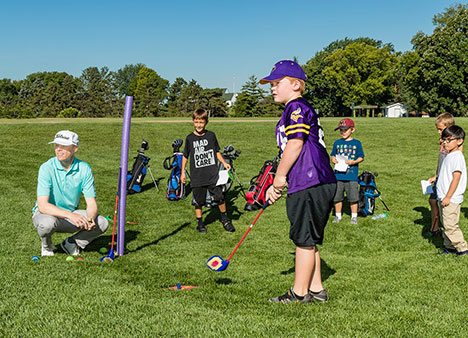 One year ago, Keller Golf Course and The Ponds at Battle Creek partnered with The First Tee of the Twin Cities to establish a school golf program as part of their junior golf initiatives. The partnership was recently awarded $5,000 through the Minnesota Golf License Plate Grant.
In just its first year, the program reached more than a thousand children, exceeding the goals that the advisory board that oversees the partnership had initially set. This success is what prompted the board and board member Jon Reigstad to apply for the grant.
"We are physically inside elementary schools introducing the game of golf to children," said Reigstad, Director of Instruction at Keller Golf Course, "PGA golf professionals train and teach alongside physical education teachers while establishing positive relationships within the community. The response has been fantastic."
The grant will provide extra resources for this growing program, including additional equipment and funding for PGA professionals to train and teach in schools at no cost to elementary schools.
"As an elementary physical education teacher, I have always wanted to teach golf, however I never had the right equipment nor experience. This program provided me with both. The equipment is safe and age-appropriate and so were the lessons. The kids are already asking if we will have golf again this year," said Ben Butters, physical education teacher at Matoska International IB World School in White Bear Lake.
Posted on
Monday, December 9, 2019 - 3:10 p.m.