Ramsey County's HUD system performance measures now available in the Open Data Portal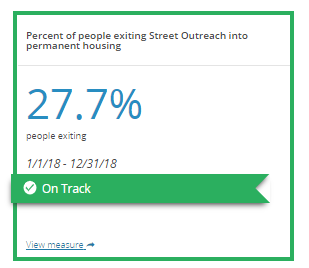 A new story that shares the results of Ramsey County's U.S. Department of Housing and Urban Development (HUD) system performance measures is now available in the Open Data Portal. This data story helps provide better access and transparency about homelessness in Ramsey County for the general public, researchers and community partners.
HUD's system performance measures are used nationwide to look at how communities are serving people experiencing homelessness. They drive funding and service priorities across the nation as HUD evaluates communities on year-to-year trends for annual grants. 
For local regions, yearly trends may point out important changes in the size of the homeless population or the community's capacity to serve them. The age and race and other demographic breakdowns are important for understanding who makes up the homeless population and how to best respond.
HUD's goals for each community are to show that people are spending less time homeless, increasing income for more independence, and not returning to homelessness after exiting Street Outreach, shelters, or supported housing. Combined, these measures paint a picture on the scope of the number of homeless people and their path towards stability. 
The Open Data Portal
The Open Data Portal provides a centralized location for the public data created and maintained by the county. The portal makes it easier for residents to access and utilize data, and promotes transparency, accountability and a better understanding of the work Ramsey County does.
Posted on
Friday, September 20, 2019 - 11:25 a.m.