Ramsey County advances Riversedge development along the Mississippi River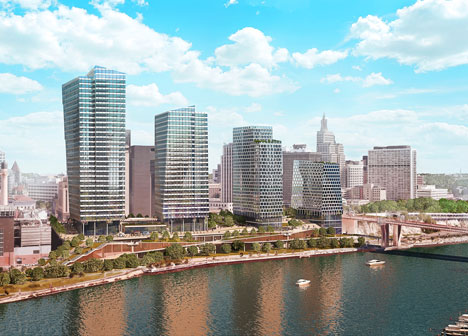 The Ramsey County Board of Commissioners has directed staff to move forward with Riversedge – AECOM's proposed development at the Riverfront Properties site in downtown Saint Paul, following the recent completion of a six-month due diligence process. The proposed $788 million development includes four new towers and will transform how downtown residents, workers and visitors connect with the Mississippi River. Proposed private development could yield more than $15 million in new property tax revenues per year.
"After a multi-faceted and comprehensive due diligence process, I am pleased that we're taking this next step to realize our bold vision for this site," said Ramsey County Commissioner Rafael Ortega, who represents downtown Saint Paul. "I am confident that our investment will bring significant long-term returns for Saint Paul, Ramsey County and the Twin Cities."
AECOM's proposed Riversedge development includes:
Phased construction of four towers that will include Class A office, residential space, and street-level retail, entertainment and hospitality.
A land bridge extension of public realm space (or "lid") over Shepard Road and the adjacent railway, extending downtown Saint Paul to the Mississippi River and doubling the usable area of the site.
Integrated public spaces including the first section of the city's proposed River Balcony, a river-level esplanade, and an amphitheater and bandshell overlooking the river.
New roadway connections to the site and supplemental parking.
$5 million contribution to an affordable housing trust fund, which would be used to expand housing options in Saint Paul.
"Riversedge is an opportunity to bring jobs, economic development, affordable housing and increased tax base that Saint Paul, Ramsey County and the entire region needs," said Ramsey County Board Chair Jim McDonough. "Maximizing new public space on this unique, iconic site provides a transformative connection between the city and the river which will stimulate access and activity for residents, business and visitors."
The first phase of the development will include construction of nearly 132,000 square feet of public realm space and trail connections; two towers with a 168-room hotel, 56 condo units, 350 residential units, 11,500 square feet of retail and 500 parking spaces. A public contribution of $80 million is being sought to fund the new public land to connect downtown Saint Paul and the river. Ramsey County has made a $40 million bonding request at the state Legislature for the Riversedge development.
View new renderings and other materials
About Riversedge
Riversedge is a proposed mixed-use development located at the southwest intersection of Wabasha Street and Kellogg Boulevard, overlooking the Mississippi River in downtown Saint Paul. Ramsey County funded the deconstruction and remediation of the former Adult Detention Center and the Ramsey County Government Center West buildings to prepare the site for new development. For more information, visit RamseyRiverfrontProperties.
Posted on
Tuesday, July 23, 2019 - 3:42 p.m.