Ramsey County announces Small Business Relief Fund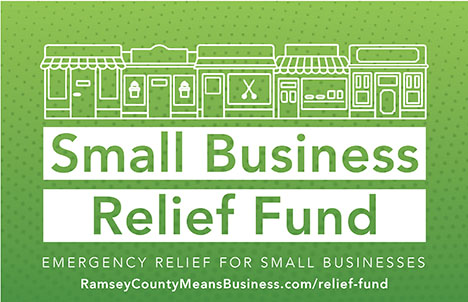 Ramsey County is providing emergency assistance to small local businesses adversely impacted by the COVID-19 pandemic. Applications will be accepted for the Small Business Relief Fund, providing grants of $7,500 to small businesses most in need of support.
"We understand there is a cost to reopening businesses safely," said Kari Collins, Community & Economic Development Director. "This grant will help ensure that businesses can afford to operate while maintaining the social distancing guidelines for the safety of employees and customers."
In total, nearly $15 million will be awarded in 2020 through multiple grant periods to qualifying small businesses in Ramsey County. The first round of awards is open through June 12. 
670 grants will be awarded to help businesses with fewer than five employees pay for critical expenses such as rent or mortgage payments, utilities and costs associated with reopening. Subsequent grant periods will be announced in the weeks ahead. Funding for the Small Business Relief Fund is provided through the federal Coronavirus Aid, Relief, and Economic Security (CARES) Act.
The Relief Fund will be administered by the Metropolitan Consortium of Community Developers' Open to Business program, which provides technical assistance and access to capital for businesses throughout Ramsey County. Priority outreach will be conducted in partnership with 14 community-based organizations working in low-wealth communities, communities of color, and areas with barriers to access other small business resources.
View Small Business Relief Fund grant application 
Posted on
Wednesday, May 27, 2020 - 10:44 a.m.