Ramsey County Library named Star Library for the eighth consecutive year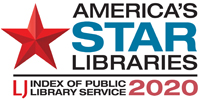 Ramsey County Library has been recognized as a Library Journal Star Library for an eighth consecutive year - one of three in Minnesota for 2020.
The Library Journal Index is a measurement tool that compares annual data reported to state library agencies and compiled by the Institute of Museum and Library Service. In 2020, the Library Journal Index added a new rating measure: successful retrievals of electronic information (e-retrievals) or the measuring usage of online content, such as databases. This is in addition to four other measures: circulation numbers, visits per capita, program attendance and public internet usage.
Posted on
Friday, January 29, 2021 - 9:05 a.m.