Lexington Avenue Reconstruction
Contact us
Lexington Avenue will be reconstructed from County Road E to I-694 in the cities of Arden Hills and Shoreview in 2022 and 2023 to improve traffic flow and safety for all users. The project will include:
Replacing aging and deteriorating pavement.
Replacing traffic signals. A new traffic signal will be installed at the Target access road intersection.
Improving pedestrian and bicycle facilities.
Adding a center median to increase safety for road users.
Improving utilities in the area including water main, sanitary sewer, storm sewer and water treatment. 
This project is in partnership with the cities of Arden Hills and Shoreview and the Minnesota Department of Transportation along witth the Canadian Pacific Railway.
View project on interactive map
Beginning of tab section with 2 tabs. Left and right arrow keys will navigate between tab navigation links.
Paving of the new southbound lanes is complete, including the turn lanes at Target Road and Grey Fox Road.
Curb construction is complete for 2022. Crews will install the new, permanent traffic signal at Target Road during November.
Construction and site cleanup will continue through late November.
2023 construction
We will make every effort to complete as quickly as possible and will continue working as long as the weather cooperates.
The following work is expected to take place in spring and summer 2023:
Construct remaining turn lanes, center medians, pedestrian ramps, new trail and sidewalk.
Complete new pavement from County Road E through railroad crossing and Red Fox Road to I-694.
Complete all remaining utility, stormwater and watermain work and install permanent traffic signals.​
Grading and paving of center lanes of Lexington at I-694 interchange have begun. Work is expected to last for two weeks.
Canadian Pacific Railway construction is complete.
2023 closures
Grading and paving of center lanes
Starting April 26, grading and paving of center lanes of Lexington Avenue at I-694 interchange will begin. One lane of traffic will be maintained in the north and south direction throughout the project. Work is expected to last two weeks.
I-694 interchange closures:

I-694 eastbound to Lexington Avenue northbound.
Lexington Avenue southbound to I-694 eastbound.

Detours:

Eastbound I-694 detour via County Road F and Victoria Street.
Northbound Lexington Avenue detour via Victoria Street and
westbound I-694.​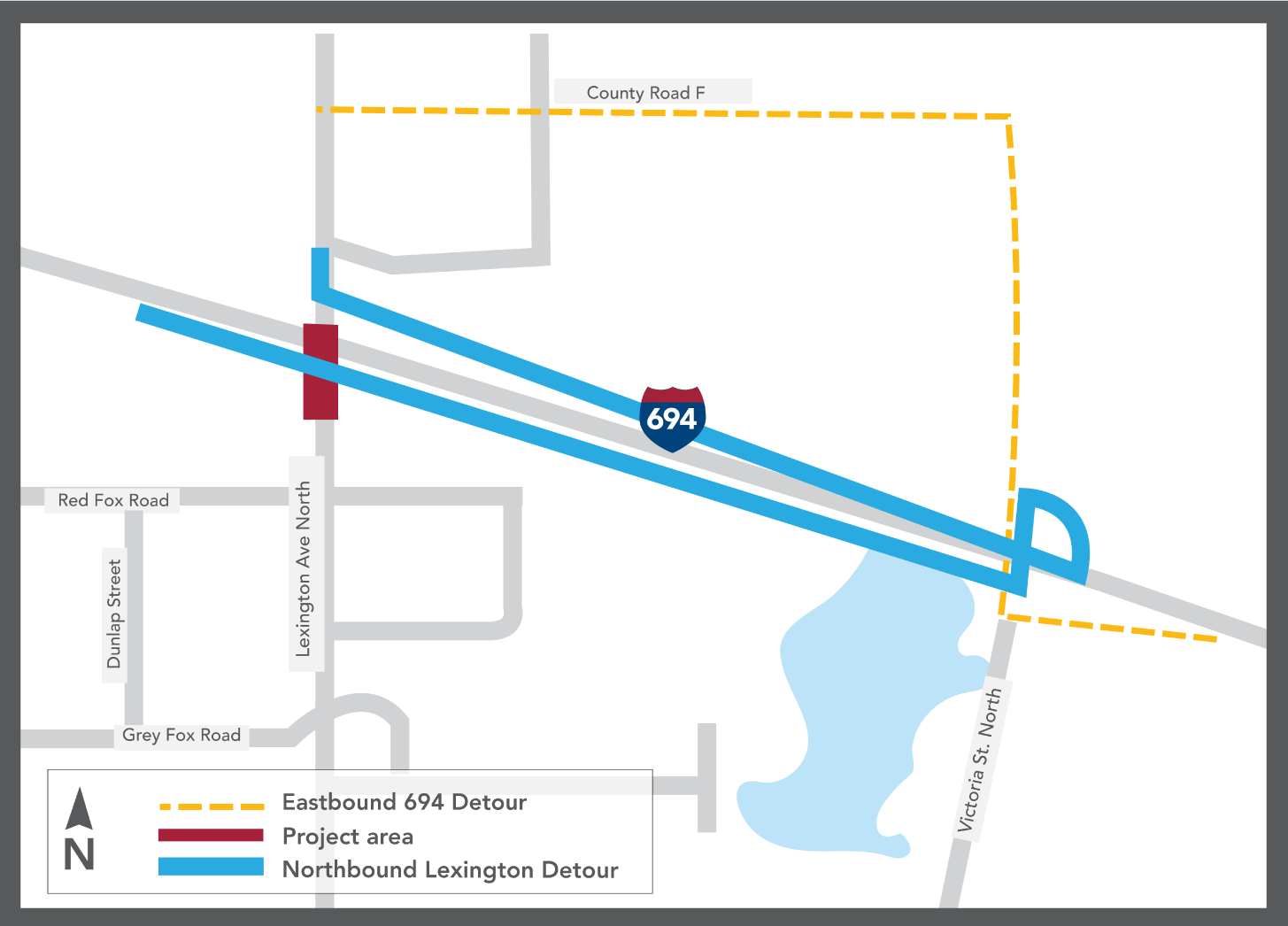 ​
Back to tab navigation.
End of tab content.