2022 Vern Vick Memorial Award Winners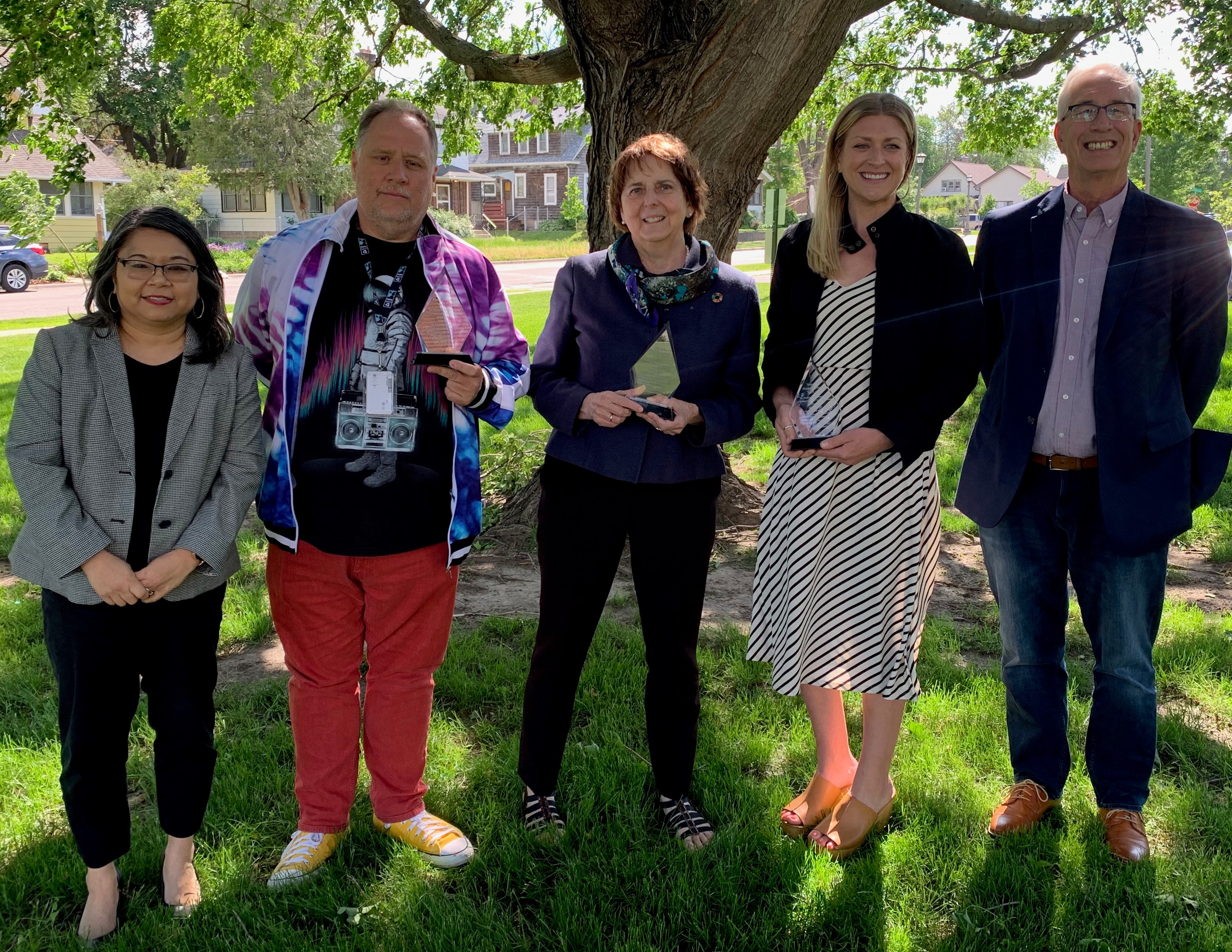 On June 3, the Workforce Innovation Board of Ramsey County (WIB) recognized the recipients of the 2022 Vern Vick Memorial Award, Scott Herold, Jenny Moore and Peg Thomas, for their exceptional contributions to the support and empowerment of Ramsey County's youth through personal, academic or career development.
"The WIB is so proud to honor such impactful individuals making a difference for young people in our community," says Ling Becker, Ramsey County Workforce Solutions director. "Each of our recipients bring a unique passion to the work. They have worked tirelessly to ensure young people have access to resources to help them achieve their potential. Scott, Jenny and Peg are exceptional at leading within our local workforce system to ensure stronger and deeper connections are being made between schools, government and industry."
Scott Herold is an exceptional leader in providing opportunities for young people. At the High School for Recording Arts and his own organization, Rock the Cause, Scott is dedicated to supporting young people making connections with caring adults and career pathways leading to family sustaining wages. During the pandemic, numerous students became disconnected from school. Scott's work helped many of them remain on track with their education and career paths during the very challenging time.
Jenny Moore is a champion for student voice, choice and experiential learning. As the Career Pathways Coordinator at White Bear Lake Area High School, Jenny transformed her role into one that is uniquely focused on helping students get connected to, or advance in, their chosen career fields. Jenny is also deeply connected to local businesses and leverages those connections to promote the career and educational interests of students.
Peg Thomas, Executive Director of the Sundance Family Foundation, is a collaborator, connector and driving force in creating pathways of opportunity for young people in Minnesota. She works incredibly hard, and is dedicated to supporting youth success by improving access to more learn, earn and lead opportunities. Peg lifts up and amplifies youth leaders of color and is always finding ways to address gaps in the system.  
Chair of the WIB's Youth Committee, Paul Nikstad stated, "We could not have asked for a more deserving group of recipients this year. Scott, Jenny and Peg are doing amazing and transformational work to support and empower our young people. Their dedication and willingness to go above and beyond has deep and meaningful impact on so many lives. On behalf of the Youth Committee, I extend my gratitude and appreciation to each of them."
This award is dedicated to the memory of Vern Vick, a widely respected member of his community, an inspirational leader and role model in the field of youth development. Throughout his life, Vern dedicated himself to working with and improving the lives of Ramsey County's youth through his long-term involvement in education as well as his participant in organizations and activities designed to develop the full potential of our county's youth.
Posted on
Saturday, June 11, 2022 - 12:53 p.m.