Commissioner Frethem takes oath of office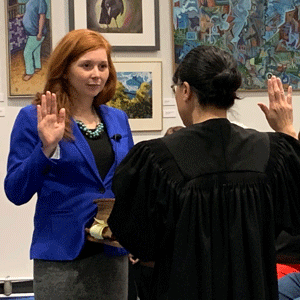 Nicole Joy Frethem was sworn as Ramsey County Commissioner representing District 1 on Nov. 20 at Ramsey County Library- Shoreview. Judge Sophia Vuelo administered the oath of office. Following the ceremony, Frethem hosted a community meeting.
Frethem won the Special Election for the office on Nov. 5, 2019 and will serve the one year remaining in the four-year term of Commissioner Blake Huffman, who resigned the seat earlier in the year. 
District 1 is the northernmost district in Ramsey County and includes the cities of Arden Hills, Gem Lake, North Oaks, Shoreview, Vadnais Heights, White Bear Township and parts of Mounds View, Spring Lake Park and Blaine. 
Posted on
Thursday, November 21, 2019 - 12:05 p.m.