Commissioner McGuire elected 2nd Vice President of National Association of Counties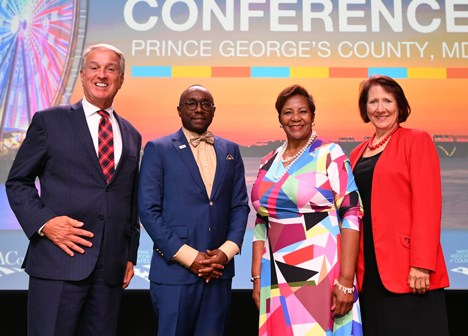 District 2 Commissioner Mary Jo McGuire was elected 2nd Vice President of the National Association of Counties during the organization's annual conference on July 12. Her election puts her on track to become the association's president in July 2023.
As a member of the National Association of Counties Executive Committee, Commissioner McGuire will help steer the overall direction of the association in concert with its Board of Directors. The National Association of Counties unites county officials to advocate for county government priorities in federal policymaking; promote exemplary county policies and practices; nurture leadership skills and expand knowledge networks; optimize county and taxpayer resources and cost savings; and enrich the public's understanding of county government.
Commissioner McGuire has been active in the organization since 2013 and has served as vice chair of the Program and Services Standing Committee and the Healthy Counties Initiative Advisory Board. She also participates in the Arts and Culture Commission, Justice and Public Safety Steering Committee, Large Urban County Caucus, Resilient Counties Advisory Board and the Women of NACo Leadership Network.
Read about the elected executive committee
Posted on
Tuesday, July 13, 2021 - 8:08 a.m.