Fix-It Clinic volunteers share memories of past clinics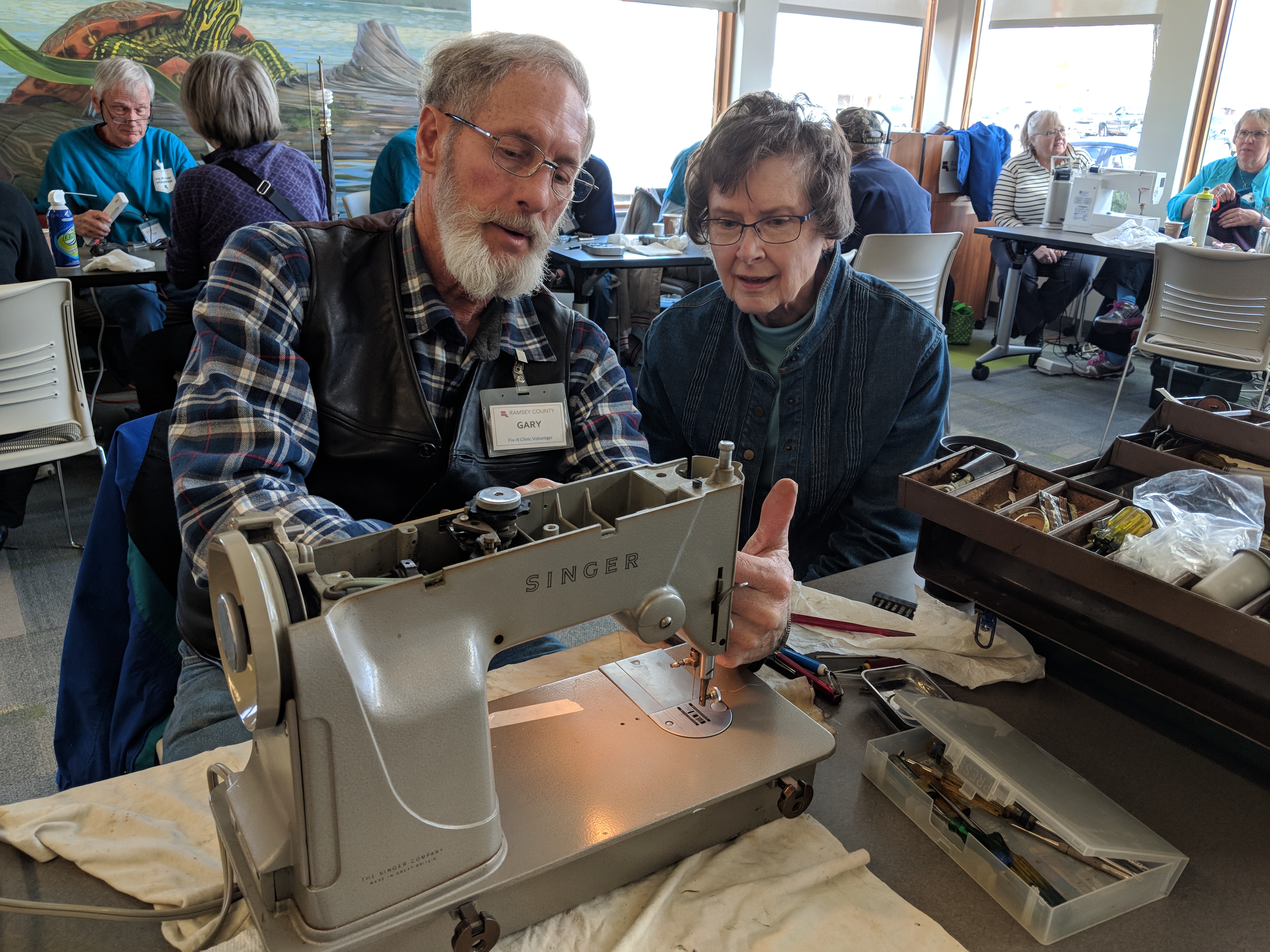 For five years, Fix-It Clinics helped residents fix their torn Star Wars socks, jammed sewing machines and shattered Santa Claus salt shakers (to name a few examples), for free. Volunteer "fixers" worked together with the residents to repair their items.
Fix-It Clinics are returning Saturday, Nov. 19, after a two-year hiatus, due to the COVID-19 pandemic.
We asked some of our veteran fixers to share their favorite memories from previous clinics.
"I've been working 'Fix-it-clinics' for 10 years and enjoy working with my fellow volunteers as we cooperate rather than compete. The 'customers' are equally enjoyable. I fix many electrical and mechanical things, but sewing machines are my specialty - I've made many people happy by getting their machine to 'hum' and teaching them to clean and lubricate it. If you have a lamp, you will fix it as you learn with my help." - Fixer Gary
"One of my favorite fixer experiences involved a lady who brought in a beloved older toaster that raised and lowered automatically (no knob). We replaced the power cord and to test it she pulled some pop tarts out of her purse, and we had a fun time eating them together." – Fixer Reece
"One of my favorite memories is of a 9- or 10-year-old boy with holes in his favorite socks (Star Wars, I think). We darned the socks- he learned how. The next time he came (they came often), to a Fix-it clinic he told me he had taught his father how to darn socks. Later we helped him with his Star Wars Halloween [costume] and fixed the grommets on a tarp his mother used to cover her three-season vegetable garden." – Fixer Jacqui
"My horizons were expanded when I stitched up a Snorlax (Pokémon). It was my first encounter with a Snorlax. I was completely Snorlax innocent before that clinic." – Fixer Linda
"As far as clinics of the past memories, I recall two. One was one of my earliest clinics where a gentleman had dropped and broken the Santa from the Santa and Mrs. Claus salt-and-pepper shakers. He asked if I could glue the 30+ pieces back together, and I did. It was slow and wasn't perfect, but he was thrilled as he was 'out of the doghouse' as his wife would be happy they had the pair back together.
"The other case was a woman who brought in an expensive Apple computer that died. She had hundreds of digital photos on it and had no backups. I'm no computer expert, but by finding some help pages online I was able to do a hard reboot and was able to bring it back to life for her." – Fixer Gordon
"Bill has enjoyed fixing or troubleshooting the many electronic and mechanical items that show up at Fix It Clinics over the past several years. Cory has been a mender of a variety of textile items from a repairing a canvas tarp for a boat to replacing a zipper in a down jacket. It is always fun to see what comes into the clinic and to figure out a "fix" for the item." – Fixers Bill and Cory
Are you interested in volunteering for future Ramsey County Fix-It Clinics? Volunteers can help greet residents and sign them in, fix household items, and more. Email [email protected] for more information.
This article is featured in Green Ramsey, an environmental health newsletter from Ramsey County. 
Learn more about and subscribe to Green Ramsey.
Posted on
Thursday, November 3, 2022 - 8:32 a.m.