New play area at Battle Creek Regional Park now open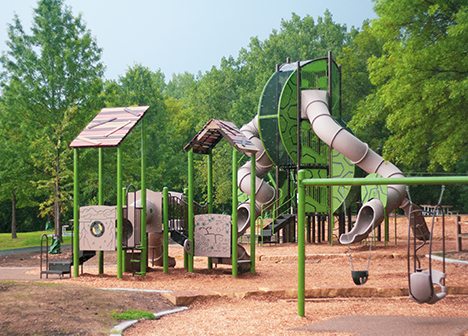 Run, jump, explore and splash around! The new play area at Battle Creek Regional Park in Maplewood is now open. Enjoy swirly slides, zipline swings, climbing structures and more. A nature play space also offers a play stream, fort building area and logs to run through and balance on. The natural elements of water, soil, stone and wood will engage the senses and encourage imaginative and integrated play.
The playground encourages children and families of all ages and abilities to experience play together through universal design features. Visitors will find play equipment such an adaptive zipline swing and sensory activity panels. The play stream can also be activated by hand or foot, with sensors installed at different heights. 
The play area is located next to Battle Creek Waterworks and complements existing park amenities, including a picnic pavilion and biking and hiking trails. 
COVID-19 information
Since surfaces at the park are not cleaned or sanitized, residents will be using the play area at their own risk. 
For the health and safety of yourself and others:
Stay home if you are sick or are exhibiting symptoms of COVID-19 such as fever, sore throat, cough or shortness of breath. 
Avoid crowded areas. If the play area is full, plan to return another time.
Keep your distance. Maintain at least six feet between yourself and others at all times.
Consider wearing a cloth mask. Since playgrounds can be difficult places to maintain social distancing at all times, adults and children ages 2 and up are encouraged to wear a mask.
Cover your sneeze or cough with a tissue or sleeve and not your hand.
Sanitize hands frequently and immediately after playing.
Park restrooms are open and cleaned daily. 
Water fountains remain off. Please plan ahead by bringing drinking water with you. 
Posted on
Tuesday, September 1, 2020 - 10:00 a.m.