Ramsey County and the City of Saint Paul mark forward action for digital equity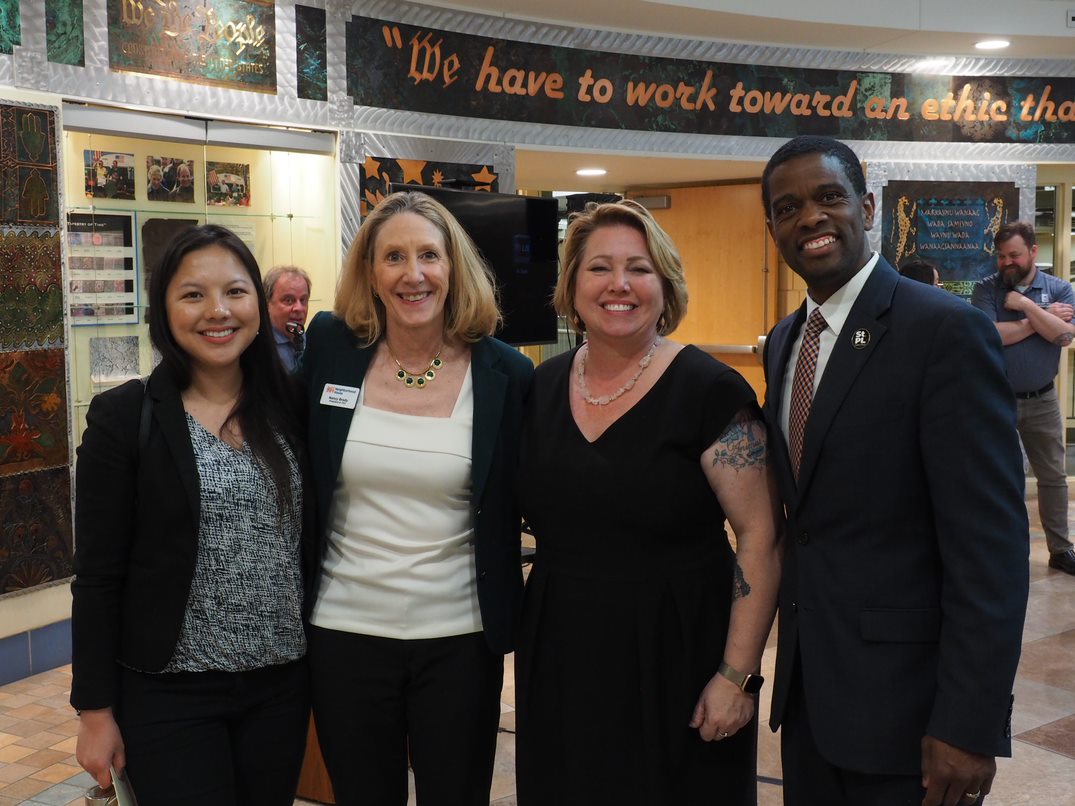 On Wednesday, May 3, Ramsey County and the City of Saint Paul celebrated the release of a new report that outlines a strategic plan to achieve full digital inclusion. Connectivity Blueprint: Digital Equity Roadmap for Ramsey County and Saint Paul was created in partnership with SDK Communications. County and community leaders also announced a new federal grant to Ramsey County and Neighborhood House, that will help expand outreach and connect low-income households to the federal Affordable Connectivity Program. The program works to ensure households can afford the broadband they need for work, school, healthcare and more.
"COVID- 19 illuminated a deep digital divide. It really was an opportunity for us as a community to see where there are tremendous gaps in services," said Ramsey County Board Chair Trista MatasCastillo. "Opportunities are online and we simply can't get to an inclusive economy if we can't get everyone in Ramsey County and Saint Paul connected." 
The Connectivity Blueprint Steering Committee was convened by Ramsey County in collaboration with the City of Saint Paul and a steering committee of 19 experts who represent Saint Paul schools, colleges, libraries and local non-profit organizations committed to helping achieve full connectivity. A household with full connectivity has everything needed to fully participate in online jobs, school, healthcare, social connection and more – that is, a computer, a broadband subscription, a cell phone and a cell plan.
"Just because a zip code has high speed internet, that doesn't mean everyone is connected to it," said Saint Paul Mayor Melvin Carter. "I'm proud that we are working together to ensure that every member of our community has those tools at their disposal."
Report findings 
The Connectivity Blueprint Steering Committee's first action was to engage SDK to understand the current state of connectivity in the community and to facilitate a planning process with the Steering Committee and partners to identify community-driven solutions. The results of the research, maps by geospatial partner AppGeo, and the collaborative planning process are all contained in the Connectivity Blueprint report.
The Connectivity Blueprint report is the first comprehensive look at digital equity in Ramsey County and Saint Paul during the pandemic and after. SDK findings of note include:
It's about people, not wires. More than 97% of Ramsey County has access to broadband wires, yet far more lack full connectivity.
Communities of color started the pandemic disproportionately behind. Half of Ramsey County residents surveyed had to add a computer, tablet or subscription at the start of the pandemic but the experience by race were far different. About two-thirds of white residents had everything they needed for online work and school at the start of the pandemic, compared with only a quarter of the county's racially and ethnically diverse respondents.
Get connected – Stay connected – Know how to use the connection. Policy to date is focused on laying wire and improving affordability but there can be uncertainty due to dropped laptops, broken phones, inconsistent internet, or cell subscriptions making connectivity unpredictable for many.
Next steps 
Work to implement the strategies of the Community Blueprint are underway in Ramsey County, Saint Paul and among the Steering Committee and other organizations committed to digital inclusion. All efforts work to ensure individuals have the information technology and capacity needed for full participation in the greater society, democracy and economy.
In the months ahead, Ramsey County and Neighborhood House will be leading broad outreach efforts to help low-income households access the Affordable Connectivity Program. Both organizations will facilitate promotion of the program and increase awareness of and participation among eligible households.
Tech Month 
Explore the additional resources Ramsey County has to offer during May 2023 Tech Month and learn more about the wide range of tech career opportunities for residents.
Posted on
Thursday, May 4, 2023 - 9:00 a.m.