Waste or recycling questions? Here's who to contact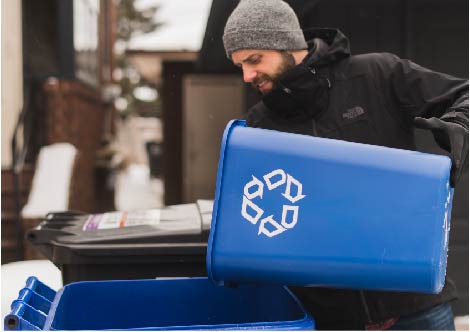 Trash not picked up? Not sure if something is recyclable? Wondering how to get rid of an old couch? Here's who to contact.
The guide below is intended for Ramsey County residents with waste and recycling questions.
Can I recycle this item?
Contact your hauler directly, especially for specific recycling questions. For example, Eureka Recycling has a Zero Waste Hotline: 612-669-2783 (Monday – Friday, 8 a.m. - 5 p.m.).
For general recycling questions, check Ramsey County's A to Z Recycling & Disposal Guide or call our 24/7 hotline at 651-633-EASY (3279).
If you still don't find an answer, contact Ramsey County Environmental Health at

[email protected]

or 651-266-1199.
My trash/recycling wasn't picked up. Now what?
Contact your trash or recycling hauler directly. If you don't know who your hauler is, look for a logo on your trash/recycling cart or contact your city.
How do I set up recycling and trash services?
For your house, contact your city to find out who collects recycling and trash. Then contact the hauler to set up service.
For your apartment, contact your building manager.
For your townhome or condo, contact your association.
For property managers, please see free BizRecycling resources for tenants.
Note that cities oversee the collection of recycling and trash from your curb, not Ramsey County.
How do I get rid of a bulky item?
Examples of bulky items include furniture, mattresses, carpeting, etc.
Some cities have bulky waste pickup programs or host clean-up days. Contact your city.
You can also contact your trash hauler to schedule a special pickup for an additional fee.
Or bring the bulky item to a disposal company. Use the A to Z Recycling & Disposal Guide to find specific companies.
Still not sure?
Start with our 24/7 Recycling & Disposal Hotline (language services available). Call 651-633-EASY (3279).
At a glance
Contact your city
Contact your hauler
Contact Ramsey County

To find out who collects recycling and trash (if you are in a house).

For questions about city-sponsored programs, like clean-up days, shredding events or bulky waste programs.

With questions about pickup schedules.

If you have a missed pickup, need a new cart, or have a hauling complaint.

When you don't know if an item is accepted in curbside recycling (or if Ramsey County couldn't assist).

For a bulky waste trash pickup.

With general trash and recycling questions, like "How do I get rid of this?" or "Can I recycle this?"

With questions about our collection programs (food scraps, household hazardous waste, yard waste and medicine collection).
This article is featured in Green Ramsey, an environmental health newsletter from Ramsey County. 
Learn more about and subscribe to Green Ramsey.
Posted on
Saturday, January 1, 2022 - 8:00 a.m.