Election Judge Information
Contact us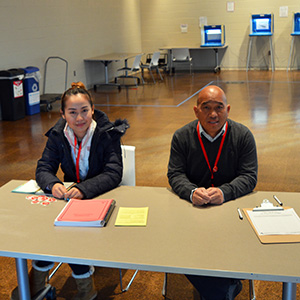 Interpreter judges needed
We have a high need for interpreter election judges in 2023.
Interpreter election judges may assist voters through the entire process in their shared language. We are currently in need for speakers of Hmong, Karen and Somali.
Interpreter election judges earn $20/hour for training and their work in our voting locations. In addition to training they'll receive to prepare them as an election judge, they are required to attend training on best practices for interpreting.
Basic information
Select the tabs below for information on qualifications to serve as an election judge, time commitment, and positions and pay for each position.
Beginning of tab section with 3 tabs. Left and right arrow keys will navigate between tab navigation links.
Election judge
Eligible to vote in Minnesota:

A U.S. citizen.
At least 18 years old.
A resident of Minnesota for 20 days.
Not currently incarcerated for a felony conviction.
Not under guardianship status in which a judge has specifically revoked your right to vote.

At least 18 years of age (if you are 16 or 17 years old, see our section on trainee/student election judges).
Able to read, write and speak English.
Complete a two-hour training.
Individuals applying to be election judges need to declare their party affiliation, if they are affiliated with a major political party in Minnesota. If individuals are not affiliated with a major political party, they must state that they are unaffiliated.
Trainee/Student election judge
U.S. citizen.
Must be at least 16 years old.
Able to read, write and speak English.
Complete an application and permission form that is to be signed by their parents/guardians and their school's principal.
Complete a two-hour training.
Note: It is not required to provide proof of vaccination to serve as an election judge.
Primary and general election day
Election judges must complete a two-hour training – we offer online and in-person classes.
After training, election judges work the primary (August) and general election (November) or just the general election, depending on their availability and on staffing needs.
Time off to serve
To qualify, you must provide your employer with written notice of the date and hours you will be working and the pay rate you will receive at least 20 days in advance of the election.
Your employer may:
Reduce your salary or wages by the amount you are paid as an election judge during the time you are away from work.
Restrict the number of its employees serving as election judges to no more than 20 percent from a single work site.
Election judges are paid hourly for training and Election Day. If desired, election judges may choose to volunteer their time and not be paid for service. See more information regarding payment options or volunteer service below. 
Precinct judge - $16/hour
Mobile judge - $18/hour
Assistant head judge - $18/hour
Interpreter judge - $20/hour
Head judge - $20/hour
Area judge - $20/hour
Early voting judge - $22/hour
Student judge - $16/hour
Back to tab navigation.
End of tab content.
Payment information
If you request and complete an application to be a paid election judge, you will be required to complete a direct deposit form, which asks for your bank information. The alternative to submitting your bank information is requesting a Focus Card, issued by US Bank, which can be spent just like a debit card. The funds that you receive will continue to be deposited onto the same Focus Card for each election, but you can request to be paid by direct deposit instead, if you choose. Note: if some information is incorrect or incomplete on your direct deposit form, you will be issued a Focus Card automatically, so be certain to watch your mail for payment if a direct deposit payment does not appear in your bank account.
Volunteer to serve
Election judges are paid by default, but you may choose to volunteer your time and not receive payment. If you would like to serve as a volunteer election judge, please complete this form.