2016 Review: Information and Public Records

The Information and Public Records Service Team is comprised of the areas of Communications, County Assessor, Government Relations, Information Services and Property Tax, Records & Election Services. As a service team, the departments coordinate and communicate with residents, government entities and employees on the county's work and services. 
Highlights of this team's work in 2016 include: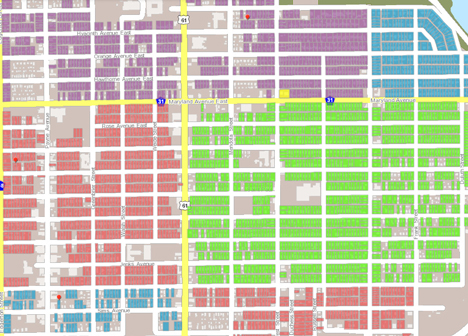 The GIS division of Information Services, Property Tax, Records & Elections Services and other departments partnered to create interactive online maps for property inspections, tax-forfeited land auctions and our recycling and waste collection sites.
Communications led the launch and expansion of a reinvented intranet site for employees and introduced tens of thousands of new users to ramseycounty.us and social media channels through coordinated promotional efforts, including a new community video series.
Elections staff produced a seamless experience for a very high turnout of voters, including managing 172 polling places, training some 1,750 judges, mailing more than 21,000 absentee ballots and assisting about 15,000 early voters in person at the Plato Building.



The early and absentee voting counter
was open during summer and fall 2016


The Assessor's Office visited and appraised more than 27,000 residential, apartment commercial and industrial properties throughout the county, and helped the county understand the trends through the 2016 Assessor's Report (PDF).
Property Tax Services calculated, processed and mailed nearly 320,000 tax and value statements to property owners and assisted tens of thousands of customers over the phone and in person at the Plato Building.
The Recorder's Office recorded 78,000 documents – 60 percent were submitted electronically and 40 percent by paper.
Government Relations worked tirelessly during the legislative session to promote the county's 2016 priorities and led the coordination and publication of the 2017 federal and state platforms.
Information Services staff fielded and resolved tens of thousands of internal requests taken through the Service Desk. Staff also brought scores of county facilities online with a broadband upgrade.