New Open Data Portal Improves Access to County Finances & Data
In September 2017, Ramsey County launched a new online Open Data Portal to create better access and transparency to our data and financial information.
The Open Data Portal provides a centralized location for the public data created and maintained by the county. The portal makes it easier for residents to access and utilize data and promotes transparency, accountability and a better understanding of the work Ramsey County does.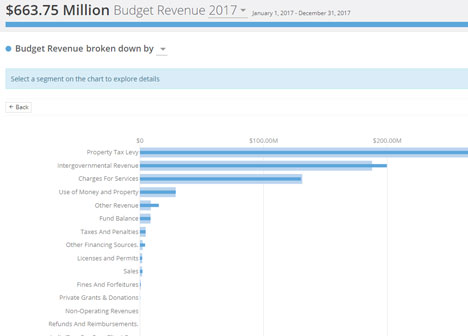 The online tool has three aspects: 
Open Data provides datasets, charts and maps related to Ramsey County's organization and operations including public safety, administration, demographics, health and transportation. 
Open Performance provides data and summaries of community indicators and department performance measures. 
Open Finance provides visualizations and detailed data related to the county's current operating and capital budgets. It also allows users to review county payments by department, vendor and type. 
The data in the portal can be used to create comparative charts and graphs, downloaded into spreadsheets and other formats, developed into mobile apps and used for other purposes. We're also able to present 'data stories' that provide additional context to datasets and visualizations.
View story on small business enterprise spending
The Open Finance tool gives our residents a greater opportunity to learn and track how Ramsey County receives and spends money. It shares data beyond what's available in our annual financial reports by providing checkbook–level insight into organizational spending, down to actual invoices. Our stakeholders can follow our spending throughout the year on the programs and services that matter most to them. The online portal also allows users to compare our annual budget to our actual expenditures and monitor how we're spending money on capital projects such as road construction, facility maintenance and park improvements.
Developing and launching the Open Data Portal was one of the county's Strategic Priorities in both 2016 and 2017. The portal is one of several county projects intended to increase transparency and accountability. In 2014, Ramsey County was the first county in Minnesota with a formal policy to provide geographic (GIS) data online for free and open use. The success of this project inspired a plan to make other types of data publicly available. The relaunch of the county's website at the end of 2015 expanded accessibility and functionality, making future projects like the Open Data Portal possible. 
Community feedback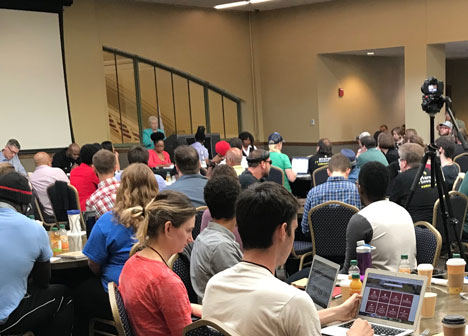 Community feedback was a critical component of successfully launching the portal. The county's project team met with community groups during development to identify datasets and conduct usability testing, and we were thrilled to partner with Code Switch to launch the portal to the public as part of their 'civic hacking' event on September 23.
As we further develop the portal, it's important to us that we continue to hear from the community to ensure we're sharing data that's relevant and useful. A feedback feature provides citizens and community groups with the opportunity to help shape the data that is added as we expand the amount and variety of data we share online.
We encourage you to take a few minutes to explore the portal and share your feedback. Stop back again throughout the year to browse new datasets and see updates to our 2018 budget and expenditures.