Biography
Contact us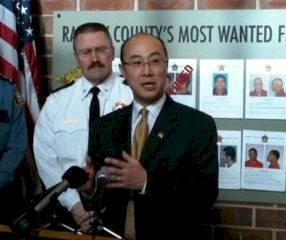 John J. Choi made history on January 3, 2011, when he was sworn in as the first Korean-American chief prosecutor in the country. As the Ramsey County Attorney, John leads a public law and prosecution office of 350 staff with a $49 million budget in the most diverse county in the state, which includes the capital, Saint Paul.
Since taking office, John has become a state and national leader in progressive justice reform, especially around gender-based violence. John's innovative approach to holding abusers accountable, while working collaboratively with advocacy agencies to help victims, has transformed the way government intervenes in domestic violence and sex trafficking situations in Minnesota. In addition, John has been a champion of raising boys and engaging men to prevent violence against women and girls; successfully advanced legislation to reunite families when it's in foster children's best interest; implemented new performance-based outcomes for youth diversion programs; developed the use of lethality assessments and GPS technology to keep domestic violence victims safe; created pre-charge diversion for adult offenders; successfully advocated at the state to reform drug laws and redirect savings to community reinvestment; and established a Veterans Court. John is past president of the Minnesota County Attorneys Association, an executive member of the Institute for Innovation in Prosecution, serves on the board of the Minnesota Coalition Against Sexual Assault and as trustee for the Women's Foundation of Minnesota. 
Throughout his public tenure, John has been innovative in reforming and finding efficiencies in the criminal justice system. As a result, he has received much recognition, including the 2015 Minnesota County Attorneys Association's Award of Excellence for his innovative leadership in establishing our MN Safe Harbor law and accompanying statewide response to prosecuting sex traffickers and helping trafficked children. In his previous capacity as the Saint Paul City Attorney (2006-2010), John was recognized with the International Municipal Lawyers Association's top award for distinguished public service. Prior to his successful career in the public sector, John spent a decade in private practice in government relations, administrative law, municipal law and civil litigation. John holds a bachelor's degree in Psychology from Marquette University, a J.D. from Hamline University School of Law, and was a Humphrey Fellow at the University of Minnesota.