Celebrate Minnesota Breastfeeding Awareness Month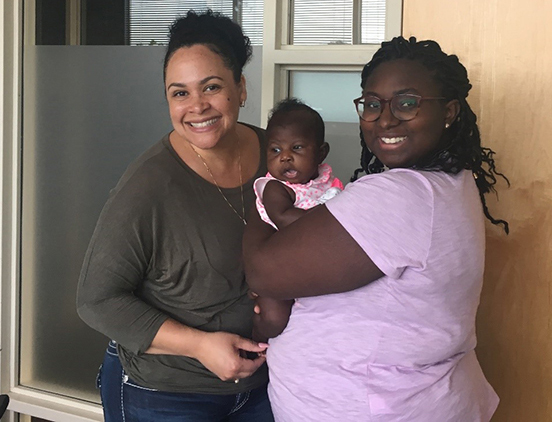 Saint Paul – Ramsey County Public Health's WIC program is celebrating Breastfeeding Awareness Month in August, World Breastfeeding Week, Aug. 1-7; Indigenous Milk Medicine Week, August 8-14; Asian American, Native Hawaiian and Pacific Islander Breastfeeding Week, August 15-21, and Black Breastfeeding Week, Aug. 25-31 and Semana de La Lactancia Latina, Sept. 5-11.
Breastfeeding Awareness Month helps raise awareness of the importance of empowering parents to successfully breastfeed and reach their goals. Breastfeeding is one of the best investments in saving lives and improving health. Support from family, employers, child care, public health and health providers all play critical roles in enabling breastfeeding.
According to the American Academy of Pediatrics, breastfeeding is the standard for infant feeding and has many benefits for the family. 
Breastfed babies visit the physician less often, are less likely to be hospitalized, and need fewer prescriptions than formula-fed infants.
Breastfeeding is environmentally friendly! No washing bottles, no packaging, no waste; just you and your baby.
Mothers who breastfeed have less risk of breast cancer, ovarian cancer, diabetes and heart disease.
Breastfeeding can be challenging, especially for those who return to work outside of the home. Parents face a variety of challenges to meet their breastfeeding goals in health care settings, workplaces and child care centers. Nine out of ten Minnesota moms start breastfeeding, but three of those nine will stop breastfeeding before their baby is six months old. Only about half of Minnesota infants are exclusively breastfed by three months. 
Good news! That's changing in Minnesota. Growing numbers of health care, child care, employers and health departments are working to address the barriers and make breastfeeding easier for new parents. Saint Paul - Ramsey County Public Health programs serve mothers who may face extra challenges in workplace support and other barriers. Public Health offers:
WIC's office visits with professionally trained lactation staff.
WIC's Peer Breastfeeding Program where mothers peer counselors provide 24/7 one-on-one phone support and guidance to new parents.
WIC's  and Healthy Communities' Lactation Lounge provides free, drop-in events offering support for those who are breastfeeding/chestfeeding and their families.
Family Health Division's breastfeeding resources and support through Family Home Visiting and Club Mom. 
By making breastfeeding easier, families can reach their goals and give their babies the best possible start in life. 
Board proclaims August Breastfeeding Awareness Month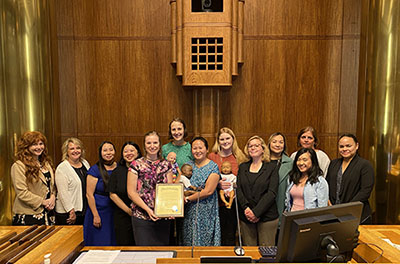 The board of commissioners proclaimed August 2023 as Breastfeeding Awareness Month in Ramsey County at the Aug. 8 board meeting. Commissioner Frethem read the proclamation and presented it to Public Health Director Sara Hollie, Meghan Johnson, Ramsey County WIC Breastfeeding Coordinator, and other WIC staff who provided remarks for the occasion.
The proclamation recognizes that Ramsey County is firmly committed to promoting breastfeeding as the optimal nutrition for all infants and a source of lifelong health protection for infants and mothers. The county has committed to attaining the Breastfeeding Friendly Workplace Designation and calls upon all organizations to make workplaces and public spaces welcoming for breastfeeding families.
Posted on
Tuesday, August 8, 2023 - 12:13 p.m.