County Manager's Office
Contact us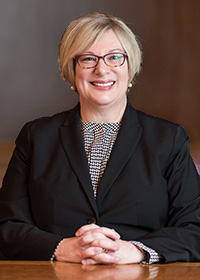 The County Manager is responsible for ensuring the efficient and effective delivery of services to Ramsey County' s residents, businesses and visitors. The County Manager makes recommendations to the Board of Commissioners, implements the board's policies, provides leadership and direction to department heads and staff, and develops and implements the county budget. The Board of Commissioners appoints the County Manager.
Ramsey County's operational departments are organized into four service teams and a strategic team. The leaders of these teams report to the County Manager.
Julie Kleinschmidt has served as County Manager since December 2008. Before this appointment, Kleinschmidt served as Ramsey County finance director for eight years. She has more than 30 years of experience in government management and finance. This includes her time as Controller of Minnesota's most populous county, Hennepin. Kleinschmidt, a CPA, is the first woman to serve as Ramsey County Manager.